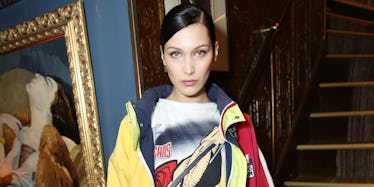 Bella Hadid's Abs In New Pic Will Make You Want To Put Down That Pizza
REX/Shutterstock
Bella Hadid posted a picture on Instagram of her wearing a quarter of a T-shirt, and I instantly vowed to never eat wheat ever again.
While her sister, Gigi, is busy rocking the first-ever cover of Vogue Arabia, the 19-year-old model decided to throw a pic on her Instagram for her fans and YOWZA.
*Eyes pop out of head Looney-Tunes style, jaw hits the floor, tongue rolls out like a carpet, I then spend the next five minutes barking*.
GoooooOOOOOOooooooooOOOOOOOoooooood morning, Bella!
The Victoria's Secret model captioned the post,
We're gonna have pins & posters too if you want them thanks to my creative genius @jessejostark ✖️✖️( fuck you baby tee ) @chromeheartsxbella @chromeheartsofficial @laurielynnstark
Bella uploaded the picture to her Instagram as promotion for an upcoming project with Chrome Hearts in Paris.
I'll tell you one thing, The Weeknd is probably kicking himself for not attempting to keep his relationship with Bella going longer.
Granted, he's currently shacking up with Selena Gomez, but still, he gave this up:
Bella recently spoke about the breakup, telling Teen Vogue,
It was my first breakup — or second, next to the horse — and so public. As an outsider, you might think I handled it so well, but it's always in your heart, and you always feel it very heavily. It'll be hard for a while. Love hurts, but you have to pull through. But I'll always respect him, and I'll always love him. Sometimes you want to be sad about it or handle it differently, but at the end of the day, you never want to burn a bridge that you've fought so hard to build.
It's safe to assume it's over, which means we have a bunch more of these awkward moments to look forward to in the future.
BRING ON THE AWKWARD GLANCES AND PUBLIC MEETINGS!