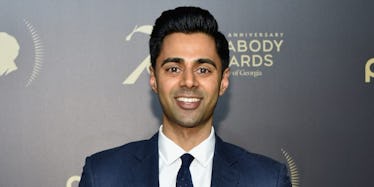 Who Is Hasan Minhaj's Wife? Here's What We Know About Beena Minhaj
Getty Images
In case you missed it, Hasan Minhaj is this year's White House Correspondents' Dinner host.
The comedian is known for being a senior correspondent on "The Daily Show with Trevor Noah." He's been on the show since November of 2014.
The White House Correspondents' Dinner is basically the "Comedy Central Roast" of politics, except it's not on Comedy Central and the president of the United States is usually there and is definitely roasted. But the president also gets to do a roast at the end!
Obama, for example, roasted Trump last year and literally dropped the mic at the end. And honestly, thank God.
But President Trump won't be there this year! Poor, little Donny can't handle being made fun of, so he and his small hands are skipping the dinner. He'll probably be golfing at Mar-A-Lago instead.
Or, as I imagine he spends every Saturday night, he'll be curled up in a ball in his bathtub crying because he doesn't understand why people are being so mean to him.
Anyway, back to Hasan. This is him!
So handsome!! The comedian has been around for a while, so you might know a fair amount about him.
Between his stand-up (which will be coming to Netflix soon), his YouTube series "The Truth with Hasan Minhaj" and his time on "The Daily Show," Minhaj is a shoo-in to become a household name.
But did you know he's married???? OOoooOooOooooooOOOooooo, ~marriage~.
Look at this objectively very attractive couple:
You probably didn't know he was married because his wife, Beena Minhaj, keeps an EXTREMELY low profile. Like, the most information we could find on her was some quotes from Hasan from a New York Times article from 2016, and those quotes only mentioned things about their apartment and how she decorated them when the couple moved from LA to NYC.
But women are more than just their interior decorating preferences! And they're DEFINITELY more than who they're married to! So we did some more digging.
And she's actually a pretty impressive person. She has a doctorate in medical administration and works in non-profits. Literally, a very well-educated saint. She and Hasan are college sweethearts; they met at UCLA and were married in 2014.
Hasan told the New York Times he was a bachelor with "Scarface" posters in his home before meeting Beena. Classic. He said,
Beena and I didn't move in together until we got married. We kept it very traditional — Mom, Dad, if you're reading this — so I had to evolve very quickly. I went from 'Scarface' photos to family photos. I'd never had throw pillows in my life, but I've now become accustomed to them. And I will say that scented candles are really nice.
Yeah, I love me some Yankee Candles too, Hasan. Glad Beena has shown you the light.
But back to her accomplishments as a very impressive and smart person. Through some more digging, we found what appears to be Beena's profile on CEP America's website.
According to the site, CEP America is "an integrated team of emergency medicine, hospital medicine, anesthesiology, urgent care, and post-acute care physicians committed to caring for patients with acute medical conditions." Beena is reportedly a practice management consultant.
Beena's bio on the site makes her seem like a literal angel and, once again, VERY IMPRESSIVE PERSON:
Beena Patel, DrPH, MPH strives to improve the quality of care and delivery through patient-centered innovations. She is a recent graduate of the Health Policy and Management Ph.D program at the University of California, Los Angeles. Her dissertation on the implementation of the West Los Angeles HPACT has been recognized nationally and replicated as a best practice across the country. She continues to be an active researcher, and her work is dedicated to the heroes of our nation who find themselves homeless in an effort to give them a voice.
So, there you have it! That's what we know about Beena Minhaj.
You can watch the White House Correspondents' Dinner on C-Span's live-stream Saturday, April 29, at 9:30 pm EST.