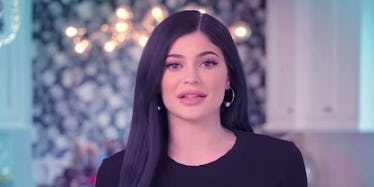 Kylie Jenner Will Star In An "Ask Kylie" Snapchat Series, So Get Your Questions Ready
YouTube/E!
Hold onto your Kardashian butt emojis, America. Kylie is just warming up. Alongside her new series, Life of Kylie, premiering Aug. 6 on E!, the youngest sister is packing even more punch. Great news just broke that Kylie Jenner's Snapchat series "Ask Kylie" will be debuting as well the following week.
You might be wondering, "WAIT, WHAT'S THAT?!" Here, let me tell you.
Disclaimer: This girl is popular. Jenner has over 175 million followers across her various social media platforms, and at the old age of 19 has launched multiple businesses including her stupid-successful makeup line and clothing line with sister Kendall. In short: the world can't get enough Kylie.
President of E! Entertainment, Adam Stotsky, is hip to this insight, and is pumped to announce the debut of "Ask Kylie."
In a press release to Elite Daily, Stotsky said,
Kylie's fans are ravenous for more of her stories and it's an exciting opportunity to engage her fans in a unique way on a platform where we know they live and breathe.
You hear that, guys? He called us ravenous, which is now going to be my new Twitter handle.
In the mobile series, Jenner will be opening up about her personal, professional, and family life by answering questions from her real life fans. Guest stars are set to include her bestie Jordyn Woods, big sis Khloé, and even her super glam grandma, MJ.
Kylie also promises to hold nothing back.
In teasers for "Life of Kylie," she has said how important it is that her fans get to know the real Kylie, beyond the image she feels pressured to keep up with every day. This series will debut on Snapchat Discover on Saturday, August 12. After that, fans can look forward to five more episodes leading up to new Life Of Kylie episodes on television.
While we wait, follow me on all social media at @revenous4kyliealldayeveryday and tune into Life of Kylie, Sunday, August 6, on E!