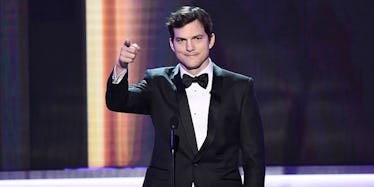 Ashton Kutcher Reveals What He And Mila Kunis Almost Named Their Son
Kevork Djansezian/Getty Images
Ashton Kutcher already revealed to us that Mila Kunis' gut was 100 percent right when it came to both naming their son and who was going to win the 2016 election (my right eye twitches every time I write "2016 election"), but now he's revealed a new detail about their son's name!
Kutcher appeared on On Air With Ryan Seacrest earlier this week where he revealed he and Kunis' son, Dimitri, was not always going to be named Dimitri.
He said,
We were set on Walt, like Walt Disney. No Walter, just Walt, but then it changed last minute.
WALT? LIKE WALT DISNEY? That's not just different than Dimitri, that's the polar freaking opposite.
I'm not sure if he means they were going to name the 7-month-old after Walt Disney himself, or if they just liked the name Walt and there just happened to be a really famous guy with the same name.
Either way, it's clear the Kutcher/Kunis clan is all about unique names.They have a 2-year-old daughter named Wyatt. V unique.
He continued (and this is the part we already knew, thanks to his interview with Ellen DeGeneres),
We were driving in the car and Mila turns to me and she's like, 'I don't think that our son's name is Walt. I think it's Dimitri, and also I think that Donald Trump is going to be the next president.' I had missed the whole name thing, because I was like, 'What are you talking about? Trump is not going to be president.' Then, like, two days later I remembered that she said it, and I was like, 'I think you're right about the name.'
YEAH, HAHAHAHA. SILLY, MILA. TRUMP'S NOT GONNA BE PRESIDENT.
Kutcher and Kunis also recently appeared on The Bachelorette, if you can believe it. They're apparently huge fans of Rachel Lindsay!
Yup, the couple helped run Lindsay's first group date of the season: a "father material"-themed obstacle course.
Kutcher told Seacrest,
[Mila and I] went on our own one-on-one and just decided to have our one-on-one be on The Bachelorette. We were watching last season and this Rachel girl was so dope that we were like, 'she's amazing,' and we want to support Rachel's quest for love.
LMAO, I love this. He also revealed he knew the "dirt" on Lindsay before her season even started because of a mutual friend of his and Kevin Durant's. Rachel Lindsay and Kevin Durant allegedly dated in high school, so that's a thing.
Kutcher added,
A buddy of mine, his roommate -- his ex-roommate -- used to date her in high school, so I got all the dirt on her before we went on there. So, I knew all the dirt that came out later about her and K.D., like, I had it all up front, and she was like, 'Don't say anything, don't say anything.' I was like, 'I'm not saying nothing.'
I guess everyone in Hollywood really does know each other somehow.