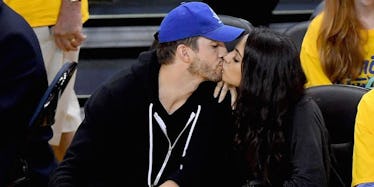 Ashton Kutcher Reflecting On First Kiss With Mila Kunis Is Awkwardly Adorable
Getty Images
If you struggle to name a Hollywood couple more adorable and perfect for each other than Mila Kunis and Ashton Kutcher, it's because there is none.
We were lucky enough to watch them grow up on screen during That '70s Show, remain friends through different relationships, and then triumphantly return to each other.
Now the 33-year-old Mila Kunis and 39-year-old Kutcher are married with two children.
They have such a great love story. Back in 2014 after getting engaged, Kunis told W Magazine,
My first real kiss ever was with him on the show… We all get movie star crushes. I'm marrying mine.
They first shared that kiss around 20 years ago, and Kutcher just shared more details about it on Wednesday, June 21, while interviewing on SiriusXM's The Howard Stern Show.
While Jackie and Michael shared a lot of heat on screen, the actual kiss itself was a little awkward.
"It was really weird. I was like, 'Isn't this illegal?' I don't know, and it was really awkward, because I'm like a 19-year-old kid," Kutcher said. "She was 14! She was like my little sister. I wanted to make sure she was OK."
Really wish he didn't call her his sister, but it's still sweet.
He did add, "We have our first kiss memorialized on a TV show!" which is pretty dope. Do you think they watch it? Maybe on their anniversary? No?
When Stern questioned if Kunis was interested in him, he used this as a chance to embarrass her a little.
"She has like, a journal or like, a diary from when she was a kid where she wrote, 'Oh, this guy's hot,'" Kutcher revealed. "She thought I was cute!"
"At first I think she thought that I was good looking, and then shortly thereafter, I was just annoying to her, because I was like a big brother," he added. "It was like, 'He's annoying, because he's always looking out for my best interest."
Really wish he would stop with the sibling references, but it's hard not to gush over these two.