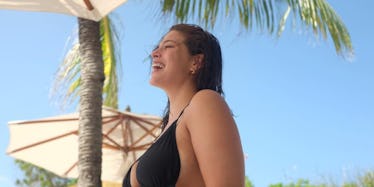 Ashley Graham's Underboob Is The Real Star Of Her Sexual Bikini Photos
Instagram
If it's January, AKA the middle of winter, then why am I so hot and bothered?
Oh, that's right... I just took a look at Ashley Graham's Instagram and immediately succumbed to a fever -- a fever whose only prescription is more ogling of Ashley Graham's Instagram.
Ashley took to her social media account to post a photo with so much underboob, your eyes will pop out of your head like a cartoon wolf inside a rathskeller watching a lounge singer perform.
With Ashley staying there, the Six Senses Zil Pasyon villas and residences on Félicité Island just got that much more exclusive.
Of course, this isn't the only, um, "boob-age" (trademark) we've seen from Ashley lately.
We reported earlier how Ashley Graham rocked some serious sideboob while taking a shower completely naked by her pool at the Four Seasons Resort Seychelles in Mahé.
After seeing both her underboob AND sideboob, I feel confident we could input these scientific findings into a 3D printer to print out the whole thing.
GO, SCIENCE, GO!
Ashley not only posted a picture of her underboob, she also decided to moon her entire Instagram account and her 2.9 million adoring followers.
No matter what stage of the lunar cycle we're in, we're officially witnessing a #HalfMoon right now.
It's clear Ashley is having the time of her life in this tropical paradise and just wants us all to feel like we're getting to go there with her.
I know, as I lie here staring at my phone, that my DMs to Ashley Graham asking her to run away with me are probably just lost in the shuffle.
I know once she sees them, you'll be catching ole Timmy McGovern standing there with her, completely ruining her pictures on Instagram.
All kidding aside, you are giving us all major wanderlust FOMO, Ashley.
The next time I can take a vacation is *checks calendar* early 2037?