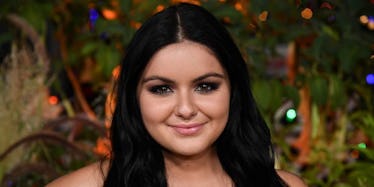 Ariel Winter's $50 Jacket Is The Piece You Need To Have For Coachella
REX/Shutterstock
Ariel Winter is gearing up to look cute AF at Coachella, and with less than a month left, you should probably get on that too.
Luckily, H&M is going to have you covered on the trendy but affordable looks front. The clothing store's anticipated festival collection roles out on March 23, and Ariel Winter is giving you a sneak peak.
The 19-year-old "Modern Family" actress modeled a jean jacket and jumpsuit look from the upcoming "H&M Loves Coachella" line.
It's a simple and cute look, and pretty darn affordable, too. The jacket is $50 and the jumpsuit is $25, putting this whole look at a total of $75.
But if you're not feeling that, or if you don't want to match, like, 10 other people in the desert, H&M will have a bunch more options to offer — tomorrow.
In the meantime, you can browse H&M's already existing "Ladies Festival Shop" for some inspiration.
Like this adorable butterfly, flamingo and grapes dress!
Cost: $34.99
It's an odd combination, yes, but I feel like it's working.
Or you could go for this stylish lace skirt.
Cost: $29.99
Elegant, yet practical!
There's this awesome leather biker jacket.
Cost: $69.99
For pretending you came to the festival on a motorcycle instead of JetBlue.
There's the classic high-waisted jean shorts.
Cost: $19.99
You'd probably regret it if you didn't bring at least one pair.
This floral, off-the-shoulder top would be a great match with those shorts.
Cost: $49.99
A classic summer look.
Or you could go with this cute black top with a low-cut back.
Cost: $24.99
Simple in the front, sexy in the back, am I right?
And of course, the Coachella staple: a flower crown.
Cost: $5.99
I think you get banned from Coachella if you don't have this headband.
Just because Beyoncé cancelled her Coachella performance doesn't mean you should give up on your trendy fashion dreams. After all, what would Queen Bey want you to do?
I mean, yes, maybe she would want you to appreciate the music of her friends Lady Gaga and Kendrick Lamar.
But I also think she would want you to look cute while doing that.
The 2017 "H&M Loves Coachella" collection will be available in US stores and online tomorrow, March 23.