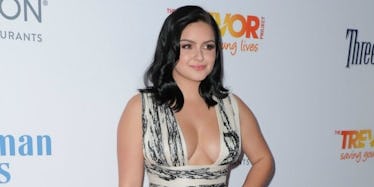 Ariel Winter Strips Down And Poses Completely Topless For Photo Shoot
REX/Shutterstock
Ariel Winter done did it again, y'all!
The 18-year-old "Modern Family" star recently made waves after she posted a series of photographs of her in a bikini on a boat.
Yeah, told you she crushed it.
Now, Ariel Winter is at it again. The self-aware actress recently posed for a completely topless photo shoot with SELF magazine, and the photos are, uh, well, you should probably just take a look for yourself.
Hot diggity damn!
Speaking with SELF mag, Winter opened up about how she "had a hard time finding confidence" while becoming a woman.
The 18-year-old said,
Growing up in the spotlight was quite possibly the worst for my self-esteem. When I started [Modern Family], I had a completely different body than what happened overnight at 12 years old. I was stick thin, I had no chest, I had no butt -- I had nothing. I was totally flat, and I was so sad about it. Then automatically, overnight, my body changed drastically. I was a D cup and had a bigger butt, and my waist was expanding. Everything was getting bigger. I automatically got this hate and judgment online.
I think it's safe to say Winter is now more than comfortable in her own skin.
Apparently, Ariel Winter attributes much of her confidence to her "Modern Family" co-star Sofia Vergara.
Speaking about her relationship with the 44-year-old Colombian actress, Winter said,
I had a great role model in Sofia growing up, with her being a curvy woman that was super proud of who she was and what she looked like. [Sofia] could see that I was struggling a little bit with how to deal with my body, and was always trying to give me advice, like, 'Here are some brands that would look good on our body type,' or 'Wear whatever you want, and feel good about yourself.'
Winter also attributes her comfort with her own body to her older sister, Shanelle Workman.
She said,
I look up to [Shanelle] so much. I would listen to her talk to me, saying, 'It doesn't matter what other people think. You are who you are. It's not going to change. Love yourself for who you are. People are going to hate regardless of what you do. You could conform to everything they say, and they're still going to find something to pick. Or you could be yourself and be happy and not listen to what they say.'
Finally, Winter got real about the fact that, despite all the media attention she receives, she's just like every other 18-year-old woman.
She said,
I think people make a lot of judgments about me based on what I wear and all the things that I do. They kind of glorify and objectify a lot of the things that I do, and I wish people would just see me as the normal 18-year-old that I am. I'm doing the same things that everybody my age is doing.
Rock on, Ariel Winter.
Citations: Ariel Winter Poses Topless in Unretouched Photos, Praises Sofia Vergara for Being 'Curvy Woman' Role Model (Entertainment Tonight), SELF Magazine (Twitter)