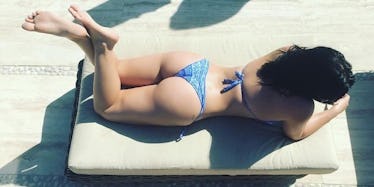 Ariel Winter Won't Stop Posting Sexy Bikini Boat Pics, So Happy Hump Day
Instagram
Ariel Winter may no longer be single -- thanks, Levi Meaden -- but she is still posting ridiculous sexy pictures of her butt on Instagram.
It appears the 18-year-old "Modern Family" star was recently in Mexico, enjoying the bright sun, blue water and tropical temperatures, and she posted a slew of ridiculously sexy bikini boat pictures on her account.
It's another cold winter's day in the Northeast, so let yourself melt by taking a look at the gorgeous Ariel Winter in a bikini.
DAYUM, BOY!!!
I told you these were hot bikini boat pics. Y'all thought I was lying?
To caption the above photo, Winter wrote,
Your favorite wives in paradise.
Don't worry, though, because there's more where that came from. Winter also posted a picture of herself in a sexy little one-piece swimsuit.
To caption the above photo, Winter wrote,
Y'all there are stingrays in the water.
There are also stingrays on Instagram, amiright???
It's Wednesday, otherwise known as hump day, so I'm going to provide you with a little more motivation to make it through this afternoon.
Winter may have left the boat, but she didn't stop taking sexy bikini pictures.
To caption the above photo, Winter wrote,
#fbf #mexico #travel
Finally, because I wanted to save the best for last, here's a frontal shot of Winter hanging on that boat in the blue waters of Mexico.
Ariel Winter is dating Levi Meaden, sure, but I can't tell you how happy I am she's still staying true to herself and posting sexy bikini pictures on Instagram.
No man can change Winter, so don't even bother, Levi.
Speaking about her presence on social media, and her unwillingness to change herself and listen to trolls, Ariel Winter told Elite Daily,
Yeah, and I started to realize that I can't win. So for me, it got to a point where I was like, I don't care. If I can't win, I'm going to work on a relationship with myself, which I also think is the most important thing we can teach young women and men today. And for me, now I post a photo and I don't care. If you're going to write something on it, whatever… If somebody doesn't like what I'm doing, you can unfollow me.
You hear that, haters? Unfollow her if you're not picking up what she's throwing down.
Citations: ARIEL WINTER (Instagram)