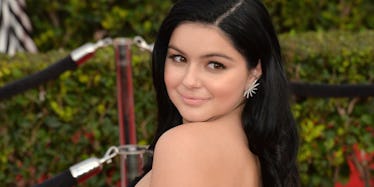 Sorry World, It Looks Like Ariel Winter Might Be Off The Market
Shutterstock
If you've been planning to sweep Ariel Winter off of her feet anytime soon, you might be out of luck.
The 18-year-old actress has been fueling SERIOUS dating rumors about her and 21-year-old actor Sterling Beaumon.
Last month, Ariel Winter sparked rumors that she might be dating Beaumon after the two Hollywood stars were seen together on multiple occasions.
While some of us thought nothing of it, others knew something could be up with these two.
Well, it turns out Ariel and Sterling Beaumon might actually be *a thing* after all. Sorry, world.
Here's a photo of Ariel, Sterling and a friend spotted out last month.
According to E! News, an inside source has revealed that Ariel Winter brought Sterling Beaumon along to Variety's Power of Young Hollywood party this week.
The report states that Winter arrived at the party with Beaumon, a friend of his and her publicist. Beaumon strolled into the venue with his buddy while Winter and her publicist waited inside at the door for them.
The source revealed,
They were together the whole night. Anytime she would walk away to socialize with someone, he would follow. It was obvious he was her date.
Damn, he was following her around? They have to be together. These two are either seriously dating OR Sterling Beaumon can't resist Ariel Winter. Either way, can you blame him?!
But apparently, the pair did not want to be caught in the middle of a PDA session. The source continued,
They seemed like they were being very careful not to and were trying to play it off.
Sneaky, sneaky.
It turns out Ariel and Sterling both left the event together at the end of the night, which doesn't help the dating rumors.
This isn't the first time the two have been spotted in close proximity. Last month, Ariel and Sterling were seen hanging out at SkySpace LA "all night."
A witness told E! News,
The two arrived at the SkySpace LA event together and left together. They were seen hanging out all night and it seemed like they were more than just friends. They were definitely very flirty and always close to each other.
Now, it's not a complete shocker that the incredibly talented Ariel Winter might be off the market. Have you SEEN her?!
I think most fans are just surprised to see Winter moving on from longtime boyfriend Laurent Claude Gaudette. They ended their relationship just last month.
We'll just have to see where this goes. For now, keep that box of Kleenex closer than ever. Heartbreak is never easy!
Citations: Ariel Winter and Sterling Beaumon Continue Igniting Romance Rumors (E! News)