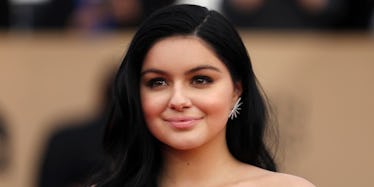 Try Not To Drool Over Ariel Winter's Super Revealing Instagram Post
REUTERS
Last time we mentioned Ariel Winter, the "Modern Family" star was calling out the notorious slut-shaming commenters of Instagram. Since then, Winter has kept busy with a handful of new projects including her upcoming movie.
According to ET, the 18-year-old actress has graduated from her role as Alex Dunphy on ABC's "Modern Family" to a breathtaking beauty that just might make you wish your smartphone was a portal.
On Wednesday, Ariel took to Instagram to post a super revealing picture of her on the set of her new film "Dog Years."
The photo captures Winter in a blissful state as she sips a glass of "wine" and enjoys a hot bubble bath. I don't know about you but Ariel Winter, bubble bath and wine? Who wouldn't double-tap that?
The caption reads,
Today's office… relax, everyone. It's cranberry juice and I'm wearing lady bit pasties.
Ladies and gentlemen, I present to you "lady bit pasties."
In a past interview with ET, the 18-year-old star revealed her love for social media, saying,
I love to share everything because I know the people that follow me like to see what's going on, and I love to share it with them. The people that support me, their comments are so lovely and I love sharing my life with them.
Continue to share your life? Yes, please!
Citations: Ariel Winter Chills in a Bubble Bath on Set Wearing Nothing But Pasties (ET Online)