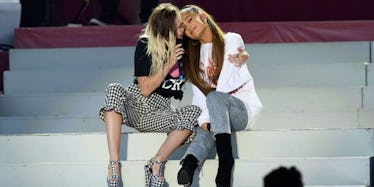 8 Times Ariana Grande And Miley Cyrus Were Serious Friendship Goals
Getty Images/Dave Hogan for One Love Manchester
When Miley Cyrus joined Ariana Grande onstage for an emotional duet at the One Love Manchester benefit concert on Sunday, they were acting like total besties -- because they are.
Their friendship has been in the public eye for years, but it seems to be stronger now than ever.
Here's a list of their BFF highlights to celebrate.
1. When Grande supported Cyrus' hair transformation.
We all know a dramatic haircut can change your life, and it doesn't get much more dramatic than when Cyrus ditched her long, Disney-friendly locks for a bleached buzzcut back in 2012.
When Grande tweeted her support for Cyrus' new look and the newfound happiness that came with it, she showed their friendship was the real deal.
2. When Grande defended Cyrus in an interview... and then uploaded the video.
Grande posted this video of her defending Miley and Justin Bieber to her personal YouTube channel in 2013 with the description "Me ranting about society and how I love Miley Cyrus & Justin Bieber."
Sure, most people would defend their friend if they were asked, but only a real BFF would upload the video afterwards.
3. When Grande defended her bestie again during a radio interview.
Grande's support for her friend seems to be unconditional. Cyrus was a pretty controversial figure in 2014, but when Grande was asked about it, her response couldn't have been more more complementary.
You have to respect a friend who stands by her BFF even when it's the unpopular opinion.
4. When Cyrus was so busy flirting with Grande, she missed her cue in their duet.
When Grande and Cyrus, both donning adorable onesies, sang a duet for Miley's Happy Hippie Presents: Backyard Sessions, their friendship was on full display.
In the middle of the song, Cyrus complemented Grande's outfit saying she was "the cutest bear/mouse" she'd ever seen and Grande responded that Miley was "the cutest unicorn in the world." Adorable.
Then Cyrus missed her cue in the song and apologized to the band, saying, "Sorry, I was flirting." And honestly, what is friendship if it doesn't get a little flirty?
5. When Grande tweeted her support for Cyrus' non-profit.
Grande has continuously shown her support for Cyrus' non-profit The Happy Hippie Foundation, which aims to fight injustices against LGBT and homeless youth.
Real friendship is supporting the causes your BFF is passionate about.
6. When Cyrus sent Grande flowers.
Following the 2014 VMAs, where Cyrus won Video Of The Year for "Wrecking Ball" and Ariana took home Best Pop Video for "Problem," Cyrus showed she was Grande's "special baby love" by sending her flowers.
We all need a friend like that.
7. When they constantly tweet about each other
Sometimes when you can't stop thinking about how great your best friend is, the only thing you can do is tweet about it. Cyrus and Grande do this a lot. I relate.
8. When Cyrus was there for Grande when she needed her most.
And of course, One Love Manchester showed how real their friendship is. Flying halfway across the world to be with your friend when she's in need? Cheering her up when she's down? Singing with her to a crowd of 50,000 people to support a great cause? It doesn't get much more goals than that.