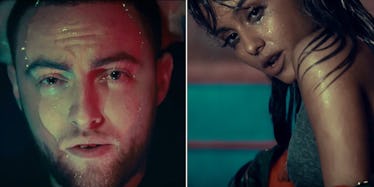 Ariana Grande And Mac Miller Pack On The PDA In New Music Video
If I were Mac Miller, Ariana Grande would have me rocking side to side, too.
At this point, it's no secret Ariana Grande and Mac Miller are madly in love, and their steamy relationship is featured front and center in the new music video for Mac Miller's fire new song, "My Favorite Part."
In the music video, which you can check out in its entirety above, Miller and Grande pack on the PDA like two drunk college kids after one too many shots of Jäger or Bacardi Razz.
We get it, guys, you're madly in love and can't help but touch each other whenever you're in the same room.
Previously, Miller and Grande collaborated on Grande's 2013 single "The Way," as well as the remix for her jam "Into You."
However, Ariana Grande and Mac Miller have never heated up the screen before like they did in the music video for "My Favorite Part."
As you can see in the clip above, the video starts off innocent enough, with Miller and Grande singing at each other through a split-screen divider...
...but soon enough, shit starts to escalate, and these two love puppies end up getting a bit physical with one another.
Just look at the smile on Ariana Grande's face. I don't think anyone could be as in love as Mac Miller and Ariana Grande are.
I mean, it's not hard to see why Mac Miller has fallen head over heels for the 23-year-old Boca Raton, Florida native.
Speaking on his collaboration with Ariana Grande for "My Favorite Part," Mac Miller told Billboard,
We recorded her part together. I had recorded my part a couple nights before. She's the best at what she does and I'm just gonna do what I do, which is different, but [the vocals] actually complement each other really well. She just sounds so angelic when she comes in, and I have more of a grit to my voice, so I love how the textures combine.
Pressed further about their romantic involvement, the 24-year-old Pittsburgh, Pennsylvania native said,
I was very unsure about what was gonna start happening. I was a lot more nervous about it because I've always been a lot more low-key, but there's a way to continue to be that, because she is as well. It's just easier for me to be low-key than it is for her. But you know what? I'm happy and content where I am, so I'm not really worried about it. If I was in a different place personally, in life, it would probably be different. But I don't care about it like I thought I would. I'm not opening every link or reading what people are saying. I'm just continuing to live life. So yes, it is new for me, but it hasn't affected my personal life, you know?
Speaking on his inspiration for "My Favorite Part," Miller said,
This record is inspired by the world. 'My Favorite Part' is one of the last songs that was made. And this is really the first album I've ever made with a happy ending, so I think where the record ends up is something very different. A lot of it was inspired just by the universe, the story of love, and the emotion of love, how love affects me is different now. You see it in the ending of the record.
Get it, guys.
Citations: Mac Miller and Ariana Grande Get Close in New Video for "My Favorite Part" (Complex)