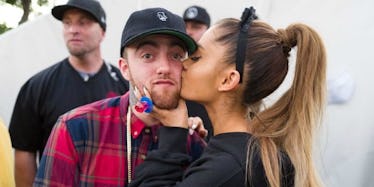 Ariana Grande Posts Sweet Video For Her 'Soulmate' Mac Miller's Birthday
REX/Shutterstock
If Ariana Grande and Mac Miller don't win the award for cutest couple of the year, well, I'd say Russia hacked the voting.
In mid-December, these two love birds sizzled on screen in the music video for Miller's fire new song, "My Favorite Part." In the video, Miller and Grande pack on the PDA and give us major couple goals.
Yeah, that clip's hot as hell.
Now, the "Into You" singer is showing the cute, soft side of her relationship with Miller with this adorable birthday tribute to her man on Instagram.
The 23-year-old posted the following video for Miller to celebrate his 25th birthday.
To accompany the above video, Ariana Grande wrote,
happy birthday to my best friend for life / soulmate @larryfisherman. I love you with all my heart.
WOW! Weren't these two just dodging rumors about being official???
Now, based on Grande's words, it looks like Mac Miller and Ariana Grande are on the verge of getting engaged!
"Best friend for life"? "Soulmate"?
I'm engaged at the moment, Mac, and let me tell you, these words should not be taken lightly.
Speaking with ET shortly after they went public with their relationship, Grande commented on what her perfect date night with Miller looks like.
She said,
Chill, I don't know. Like, random adventures. Going on drives, looking for Pokémon, going to cute movies, making music. Every day [with Mac] is super exciting. Just waking up and being like, 'Hell yeah!' Do you know what I mean? It's great.
I mean, if this isn't real love, I don't know what is.
Speaking on his romantic involvement with Ariana Grande, Mac Miller told Billboard,
I was very unsure about what was gonna start happening. I was a lot more nervous about it because I've always been a lot more low-key, but there's a way to continue to be that, because she is as well. It's just easier for me to be low-key than it is for her. But you know what? I'm happy and content where I am, so I'm not really worried about it. If I was in a different place personally, in life, it would probably be different. But I don't care about it like I thought I would. I'm not opening every link or reading what people are saying. I'm just continuing to live life. So yes, it is new for me, but it hasn't affected my personal life, you know?
I love these two.
Citations: Ariana Grande Pens Adorable Birthday Message to 'Soulmate' Mac Miller: 'I Love You With All My Heart' (Entertainment Tonight)