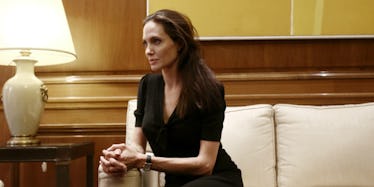 Angelina Jolie And Her Kids Grilled By FBI About Brad Pitt's Plane Incident
REX/Shutt
The shocking news of Angelina Jolie and Brad Pitt's divorce and Pitt's alleged child abuse continues to make headlines. Now, the government is performing their own investigation.
On Tuesday, Angelina Jolie and her children were interviewed by two FBI agents who were trying to analyze just what happened between Pitt and Brad and Angelina's 15-year-old son Maddox.
The two agents went to Jolie's home in Malibu and spent over three hours with the family. A source informed TMZ, because of course TMZ would report this, that it was not an official investigation.
The FBI agents are currently trying to find out the exact facts to see if there is enough evidence to start an investigation against Brad Pitt.
The source said that the investigators asked Jolie and her children to walk them step-by-step through the incident, in which Pitt had a confrontation with Maddox.
The confrontation potentially led to the boy being physically hurt during their verbal disagreement, which happened on a private jet.
The family's conversation with the FBI included where the plane was located, when the confrontation occurred and if it happened in United States' airspace.
The FBI also asked a number of questions about what occurred while the plane was refueling in Minnesota. They are trying to determine if Minnesota officials have jurisdiction.
While it is unlikely the FBI will press the case, Angelina was still cooperative, but sources say she just wanted the agents to leave her home.
This is, of course, an extremely sensitive time for the actress and her children, and this only more added stress.
Brad Pitt went 19 days without seeing his six children and during their emotional reunion Maddox chose to stay home with his mother.
There was also a therapist who oversaw the reunion between Pitt and his children.
A source said that Maddox doesn't see himself as Pitt's son. Another Jolie source said that Maddox never wants to see his adoptive father again.
Citations: ANGELINA JOLIE AND KIDS INTERVIEWED BY FBI (TMZ)