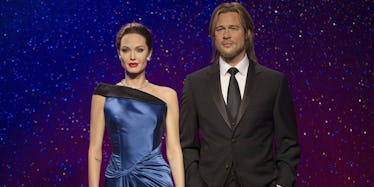 Brad Pitt And Angelina Jolie's Separated Wax Figures Will Make You Cry
REX/Shutterstock
After Brangelina's earth-shattering split, it's only natural to search for a glimpse of hope that maybe -- just maybe -- there's a chance love will prevail and the two will reconnect.
Well, we can all throw that "glimpse of hope" out the window because even Brad and Angelina's wax figures aren't standing next to each other anymore, and it's breaking our hearts.
THERE IS NO HOPE.
Ouch, right? Now we can't even pretend Brangelina is a thing anymore.
Madame Tussauds in London separated the power couple and used Robert Pattinson's wax figure as an in-between. Judging by the smirk on Pattinson's face, he's obviously getting a kick out of it.
Cheeky move, guys.
The current figures had reportedly been next to each other since Brad's 50th birthday in 2013 and essentially had a longer standing relationship than I ever have.
The drastic wax-figure breakup happened shortly after Brangelina's IRL split, with the help of Madame Tussauds employees.
I'd hate to be the guys and gals moving these figures around.
In fact, I wouldn't have the heart to do it.
This all happened so fast -- couldn't we have waited a few more days?
Heck, seeing this is like looking at a second breakup. We just CAN'T right now.
A Madame Tussauds spokesperson talked about the drastic move, saying,
We reacted quickly to yesterday's news of the separation of Angelina Jolie and Brad Pitt and their plans to divorce by mirroring the separation in the attraction... The couple's wax figures, which were launched in 2013, have been split up and are now featured at a respectful distance from each other.
I guess all good things need to come to an end, even when they're made out of wax.
Brangelina forever.
#Brangelina have officially been separated @MadameTussaudshttps://t.co/OS3k3DEKIqpic.twitter.com/eYxtiXtXdr — ITV Ents News (@itventsnews) September 21, 2016
Citations: Brad And Angelina's Wax Figures Have Been Separated, So Now It's Official, You Guys (BuzzFeed), Brad Pitt and Angelina Jolie waxworks split up by Madame Tussauds (by about a yard) (Evening Standard)