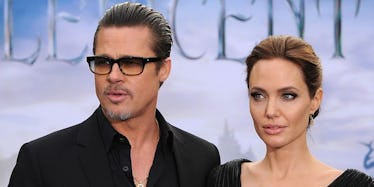 Angelina Jolie And Brad Pitt's Divorce May Be On Hold, According To New Report
Eamonn M. McCormack/Getty Images
The internet lost its mind when Angelina Jolie and Brad Pitt's divorce was announced. If they couldn't make their marriage work, how could anyone else?! Well, it looks like they might be making their marriage work... We're not kidding, you guys. According to reports, Angelina Jolie and Brad Pitt's divorce might be on hold. *SCREAMS WITH JOY INTERNALLY*.
A source told US Weekly, "The divorce is off. They haven't done anything to move it forward in several months and no one thinks they are ever going to." Elite Daily reached out to both Jolie and Pitt's teams for comment, but did not hear back by time of publication.
If this is true, my hope in love will be restored. And I don't know about you, but I desperately need some more hope after learning that Chris Pratt and Anna Faris are separating. Angelina Jolie filed for divorce from Brad Pitt in September of 2016 after an alleged incident on a plane that involved Pitt "lunging" at their eldest son, Maddox. But that incident was never confirmed by Jolie or Pitt; it was only circulated by tabloids. So let's take that story with a grain of salt until we know otherwise.
Pitt allegedly also had a drinking problem to sort out. But according to US Weekly, he has, and Jolie is ready to give him another chance because all she allegedly wanted was for him to get his life together.
An anonymous source told the outlet,
He got sober to try and win her back. He knew he had a problem that he had to take care of. And that's all she ever wanted.
Pitt revealed to GQ earlier this year that he was "boozing" so much, he "could drink a Russian under the table with his own vodka." Jolie seemed to have run out of patience for Pitt after years of alleged fighting, which is what led to her filing for divorce. But throughout the past year, Jolie apparently has regretted her decision and "is still so in love with him," according to the source. Pitt's commitment to getting sober and getting his life together is allegedly what made Jolie open to putting the divorce on hold.
The source told US Weekly she'd be willing to get back together "if he showed he was committed to raising a family." The source added,
Everyone thinks they are going to get back together. It wouldn't be surprising if they announced that they're calling it off and trying to work things out.
Jolie recently opened up about the divorce in a revealing interview with Vanity Fair in July. Referencing her relationship with Pitt and their pending divorce, Jolie said,
We care for each other and care about our family, and we are both working towards the same goal.
Now that she's moved into a new house with she and Pitt's six children in L.A., Jolie feels she and the children have the chance for a fresh start, but are still healing from the events of the last year. (She doesn't say what those events are, so again, we can't assume the "lunging" story is true.) Jolie said of her children,
They've been very brave. They were very brave. In times they needed to be. We're all just healing from the events that led to the filing … They're not healing from divorce. They're healing from some … from life, from things in life.
She later added,
It's just been the hardest time, and we're just kind of coming up for air. [This house] is a big jump forward for us, and we're all trying to do our best to heal our family.
Pitt talked about fatherhood in his GQ interview, as well. He said,
I grew up with a father-knows-best/war mentality — the father is all-powerful, super strong — instead of really knowing the man and his own self-doubt and struggle. And it's hit me smack in the face with our divorce: I gotta be more. I gotta be more for them. I have to show them. And I haven't been great at it.
So, if these reports are true, it looks like Angelina and Brad Pitt might be getting back together. EVERYONE REMAIN CALM. LOVE ISN'T BACK FROM THE DEAD YET. DON'T JINX ANYTHING. (But oh my god, holy sh*t, ohhhhhh my god, it's happening!!!)