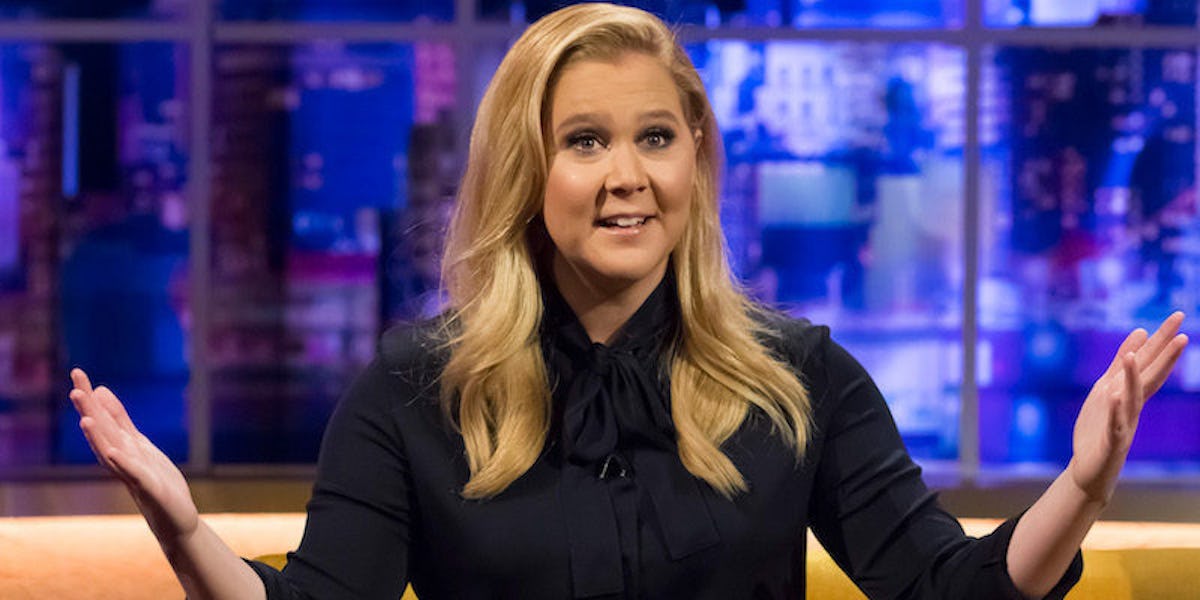 Amy Schumer Was Told To Lose Weight So She Wouldn't 'Hurt People's Eyes'
REX/Shutterstock
If you keep up with Amy Schumer, you know the actress and comedian will hardly ever bite her tongue when discussing body image and being comfortable in your own skin.
Let's be clear that the last time body critics had something to say about Schumer, she single-handedly made Spanx fashionable for women.
She also awkwardly sips chicken broth in Paris like a boss.
Most recently, the 35-year-old star has spoken out about the time she was told to lose weight while filming "Trainwreck."
In a new interview for an upcoming episode of the UK-based "Jonathan Ross Show," Amy Schumer revealed,
The only change was that it was explained to me before I did that movie ['Trainwreck'] that if you weigh over 140 pounds as a woman in Hollywood, if you're on the screen it will hurt people's eyes. I didn't know that, so I lost some weight to do that, but never again.
You hear that, haters?! NEVER AGAIN. Amy will no longer tolerate your unfair criticism of her body no matter what movie she's starring in.
The fact of the matter is, she's never really tolerated it in the first place. Sure, in one of her first major film releases alongside Bill Hader, it makes sense as to why Schumer might have felt pressured to change herself for Hollywood.
But it's no secret that Amy Schumer's been comfortable in her own skin as a well-known public figure for quite some time.
Back in 2015, while accepting Glamour magazine's Trailblazer of the Year award, Schumer confessed,
I'm, like, 160 pounds right now, and I can catch a dick whenever I want, and that's the truth.
Yeah, she isn't phased!
During the upcoming episode of "The Jonathon Ross Show," Schumer also speaks about the fact that her family wasn't always financially stable and even recalls having a very "dark" birthday party after her family went bankrupt, saying,
My parents just put a light fixture on the floor and my dad put a video camera upside down and we just danced around pretending like we were dancing on the ceiling. Bring your own pizza. It was really dark, my uncle was the clown.
Bring your own pizza?! Yeah, it's safe to say this woman can make it through anything -- even food poisoning.
Amy Schumer's episode of "The Jonathon Ross Show" is set to air September 17 on ITV.
Citations: Amy Schumer Lost Weight So She Wouldn't 'Hurt People's Eyes' When They Watched 'Trainwreck' (Huffington Post)