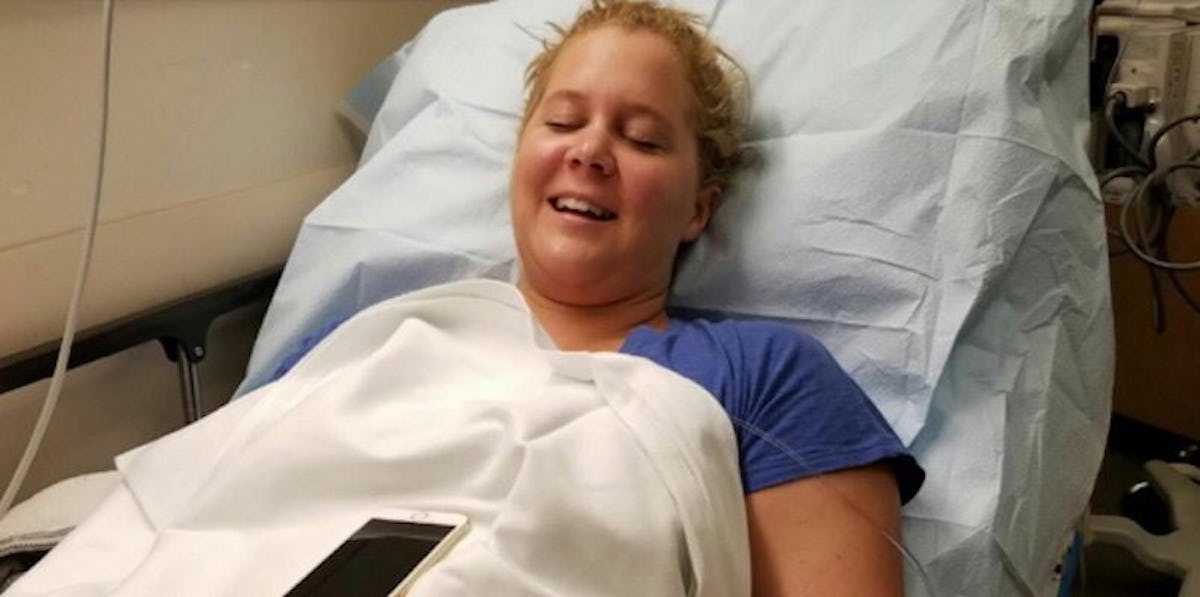 Amy Schumer Posts Hilarious Video From Hospital After Getting Food Poisoning
Amy Schumer is the only person who could make me fall in love with her via a terrible dating video from a hospital bed.
OK, Chris Evans could probably do that, too. And Chris Pine. And Chris Hemsworth.
THE POINT IS, Amy Schumer is as charming and hilarious as the Chris-es of Hollywood are burly and glistening.
On Monday, the 35-year-old comedian was hospitalized for food poisoning while she was on a trip to Paris with her boyfriend, Ben Hanisch.
Of course, if I got food poisoning while I was away from home, I would shut down and throw a tantrum about how unfair life is.
Luckily for the world, Amy Schumer is not me, and instead she took advantage of her new hospital setting to make her very first "dating video."
(I put it in quotes because I'm not really sure what a dating video is. Is this a real thing people do?)
Anyway, Amy's dating video is basically every basic girl on a dating site's description of herself.
Her defining characteristics are she "loves music and food" and enjoys "grabbing life by its horns and experiencing everything."
What more do you need to know about a person, really?
Earlier that day, Amy posted a photo of her and Ben confined to their hotel bed, thanks to some good ol' fashioned Parisian food poisoning.
Apparently things got bad enough that Amy had to go to the hospital. But don't worry too much — she posted an update today that she is already feeling better.
I'm sure she and Ben will be back to vacation mode in no time.
Citations: Très terrible! Amy Schumer hospitalized after getting food poisoning on romantic trip to Paris with boyfriend Ben Hanisch Read more: http://www.dailymail.co.uk/tvshowbiz/article-3785495/Amy-Schumer-posts-lopsided-selfie-bed-Paris-complains-food-poisoning.html#ixzz4K8o5GJOk Follow us: @MailOnline on Twitter | DailyMail on Facebook (Daily Mail)