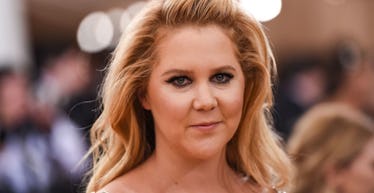 Amy Schumer Gets Real About Why She Stood Up Against The 'Plus-Size' Label
REX/Shutterstock
At the end of March, Glamour released its first plus-size issue and featured Amy Schumer in an article without her consent.
When her name was published in the print, the 35-year-old comedian stood up against the magazine in a series of posts on social media.
She reminded people size 16 is considered plus-size in America, and she wears between a 6 and 8.
On top of that, Amy had a message for young girls about the harm in adding labels to body types when our fashion industry should just be more inclusive of all shapes and sizes.
Having someone like Amy, who is fit and healthy, be labeled as "plus-size" is just completely inaccurate. Sorry Glamour, but you messed up. Big time.
When it comes down to it, we shouldn't be telling women if they're "fat" or "skinny" when it isn't a binary system. We shouldn't even be labeling women, period.
Amy Schumer recently spoke out about why she stood up to the "plus-size" label in Lena Dunham's e-newsletter, Lenny Letter.
In the raw and honest interview, the two ladies discussed everything from Amy's new book to her comedy tour to the unrealistic standards that have been put in place for women.
Lena commended Amy for sticking up to Glamour and told her,
I loved this year when you were like, 'I'm not fat, and I'm not skinny, and why do I have to be in this plus-size category?' after a magazine called you plus size on their cover. I know it ended up being a fucking pain in the ass for you, but what I was so glad about was that you were just being like, 'Why, when you see a woman and she has 18,000 contributions to the world, would your desire be to place her in a random category you came up with?'
As Amy has explained before, she believes women should not be labeled and put into seperate categories. She reinterated this to Lena, saying,
Right. I said, 'I think it's unfortunate that we still live in a time and a country where normal isn't good enough. The media body-shames women of healthy, normal sizes.' That's why I spoke up about the plus-size thing. Because plus-size, unfortunately, still does have a negative connotation.
I'll leave you with this quote from Amy's new book, "The Girl with the Lower Back Tattoo" because I think it sums up her message perfectly:
I say if I'm beautiful. I say if I'm strong. You will not determine my story – I will.
 We hear you, Amy. Loud and clear. How about you, Glamour? Are you listening?
Citations: Amy Schumer Interview With Lena Dunham (Lenny Letter)