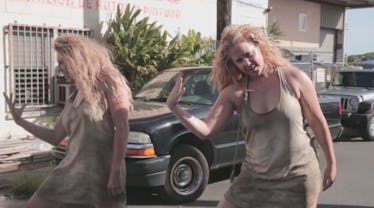 Amy Schumer Pens Emotional Essay On 'Formation' Vid: 'I'm Not Going Anywhere'
YouTube
Amy Schumer released a letter to fans addressing the music video she created for Beyoncé's "Formation."
The 35-year-old comedian danced to Bey's lyrics alongside her co-star Goldie Hawn while filming their new movie in Hawaii.
The video was released on TIDAL on October 21, and it seemed like a majority of people were deeply offended by the "parody."
Twitter users started to share their outrage using the hashtag #AmySchumerGottaGoParty.
One user even wrote,
Am I the only one who never found her funny from the beginning?
While everyone came together to hate on Amy Schumer, the star was crafting her response to the negativity in an emotional letter.
On Thursday evening, Amy Schumer shared a lengthy message to fans defending the "Formation" video she created.
She started off by explaining how much she idolizes Beyoncé and her music. She told fans,
Saying I love Beyoncé's album 'Lemonade' is a huge understatement. I believe it is one of the greatest pieces of art of our time.
She continued by describing what "Formation" means to her, especially during a time when we have a female presidential nominee running for office.  She shared,
While we were shooting our movie in Hawaii this summer we were all crazy for the album and also for Hillary Clinton. We would rush back to our televisions or phones to watch a stream of CNN to see the convention and watch Hillary and Michelle and so many extraordinary women speak. All of the women on set were bonded together from this music and from the election simultaneously. It was such a powerful time. 'Lemonade' brought us all together. We listened to the album and danced every day, always making everyone feel better no matter what we were going through. We were so into it that we learned the dance to 'Formation.' It got us through this summer.
Amy then clarified that the video she made with Goldie Hawn was not a parody. It wasn't meant to make fun of Bey and her work, but rather to inspire women to stand up and come together.
She explained,
It was NEVER a parody. It was just us women celebrating each other. The video Beyoncé made was so moving and I wouldn't ever make fun of that. There is absolutely no way to. I make fun of myself a few times in the video as I do in everything I am a part of. I loved every second of working with those women to make this thing that lifted us up.
In the end, Amy told her haters that she "isn't going anywhere." She's here to stay and will continue to do her best to spread love. She concluded the letter by saying,
You have every right to feel however you feel about the video and me but I want you to know I'm not going anywhere. Use whatever hashtag you like. My mission is to continue to work as hard as I can to empower women and make them laugh and feel better and I won't let anything stop me. #strongertogether #alllove
Sorry haters, but it looks like this girl is here to stay.
You can read Amy Schumer's full letter here. 
Citations: Amy Schumer Letter About 'Formation' (Medium)