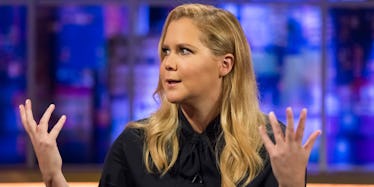 Amy Schumer's Naked Pic Called Out People Hating On Her 'Formation' Parody
REX/Shutterstock
Remember that hilarious "Formation" parody Amy Schumer put together with Goldie Hawn in Hawaii?
Well, as expected, the haters came pouring out of the woodwork to bash Schumer because that's what haters do.
Amy Schumer, 35, had the chance to honor Beyoncé in an epic way while shooting a movie with 70-year-old Goldie Hawn.
The video was released through TIDAL on October 21. While plenty of fans couldn't get enough of the "Lemonade" tribute, others just wished she would stop already.
Their outrage prompted the creation of the #AmySchumerGottaGoParty hashtag Twitter users circulated to usher Schumer out of relevance due to the parody, which some people felt was unnecessary.
One Twitter user wrote,
Am I the only one who never found her funny from the beginning?
Now, the actress and comedian is calling out the haters with a NUDE photo.
That's right, Twitter rants are cool and all, but sometimes you just have to shut the haters up with a naked pic that'll stop them dead in their tracks! Schumer took to Instagram, saying,
You know you that bitch when you cause all this conversation. Thanks for the exclusive release Tidal! We had so much fun making this tribute. All love and women inspiring each other.
Here's the steamy photo...
Well, DAMN, Amy! I didn't know you were THAT down with the nudity...
Side note: Amy Schumer isn't new to causing conversation.
After all, conversing is what brought her to link up with Goldie Hawn for their upcoming movie "Mother/Daughter" in the first place. The 35-year-old star met Hawn on a plane where she expressed how badly she wanted to work with the 70-year-old icon.
Schumer told the LA Times,
I met her on an airplane a couple of years ago and told her there's a movie I really want to make with her. And she was very nice. 'OK, honey.' She probably thought I was a psycho. 'OK, crazy person.'
Hey, if there's anything we learned from Schumer and Hawn's "Formation" parody, it's that there's NOTHING wrong with being a "crazy person."
It'll obviously make for great content and even better conversation!
If you just can't get enough of Amy moving and grooving to the latest jams, this should hold you over until next time.
You might be able to un-see the "Formation" parody but you CANNOT un-see that... You're welcome!