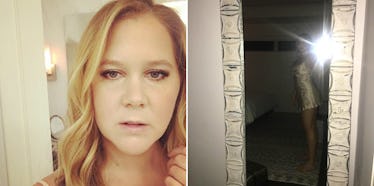 Amy Schumer Shows Off Her Butt In Seductive 'Lingerie Model' Selfies
Instagram
When Amy Schumer isn't cracking jokes on stage or shooting scenes for her new movie, she's working her angles as an Instagram "lingerie model."
On Tuesday night, the 35-year-old comedian showed off her hot bod in a couple of photos and added some hilarious captions.
She first added a closeup of her face staring directly into the camera.
The first photo she simply captioned,
Selfie
DEEP, GIRL. Deep.
Shortly after, Amy Schumer posted a second image of herself posing in front of the mirror wearing sexy, silk lingerie.
Damn, Amy. Look at that butt. Check out yo' legs.
She originally captioned the shot "lingerie model" but quickly changed it to something a little more fitting.
She captioned it with a line from Kanye West's "Good Life" and wrote,
#girlswhoaintontvcausetheygotmoreassthanthemodels
If that's difficult to read, I'll write it out for you: "Girls who ain't on TV cause they got more ass than the models."
Of course, it's unclear if Amy Schumer is referencing anything in particular, but I have a guess it might have to do with the criticism she's received in the past for being cast in a certain movie role.
In the beginning of December, it was announced Amy would be starring in a live-action "Barbie" film. The actress will be the star of the Sony-produced movie and take the lead, playing a Barbie doll.
According to reports, this Barbie movie will tell the story of an "imperfect" doll who is struggling to fit in with the other dolls in Barbieland.
I'm a big fan of Amy Schumer, so I was personally pretty pumped to hear about her new role. However, others weren't as pleased.
The star was body-shamed (again) by internet trolls who considered Amy an inadequate fit for the role because of her body dimensions.
Amy Schumer shut down all the haters in an Instagram message she posted three weeks ago.
She wrote to her followers,
Very very honored to be nominated for 2 Grammys and to be considered to play an important and evolving icon. Is it fat shaming if you know you're not fat and have zero shame in your game? I don't think so. I am strong and proud of how I live my life and say what I mean and fight for what I believe in and I have a blast doing it with the people I love. Where's the shame? It's not there.
She continued,
It's an illusion. When I look in the mirror I know who I am. Im a great friend, sister, daughter and girlfriend. I'm a badass comic headlining arenas all over the world and making tv and movies and writing books where I lay it all out there and I'm fearless like you can be. Thanks to everyone for the kind words and support and again my deepest sympathy goes out to the trolls who are in more pain than we will ever understand. I want to thank them for making it so evident that I am a great choice. It's that kind of response that lets you know something's wrong with our culture and we all need to work together to change it. Anyone who has ever been bullied or felt bad about yourself I am out there fighting for you, for us. And I want you to fight for yourself too! We need to laugh at the haters and sympathize with them. They can scream as loud as they want. We can't hear them because we are getting shit done. I am proud to lead by example.
Amy concluded her message by quoting a line from her book, "The Girl with the Lower Back Tattoo." She said,
'I say if I'm beautiful, I say if I'm strong. You will not determine my story. I will' #thegirlwiththelowerbacktattoo
Preach, Amy. You're gonna make an incredible Barbie doll. Keep killin' it.
Citations: Amy Schumer Lingerie Model (Daily Mail)