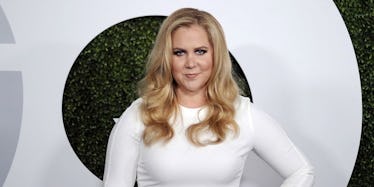 Amy Schumer Slammed Body-Shaming Trolls With This Instagram Photo
REUTERS
Body-shaming douche bags, they're everywhere -- especially when summer rolls around! That's exactly why we're happy comedian and actress Amy Schumer is finally putting the haters to sleep with her latest Instagram post.
Ah, Amy, she's just like us. The 35-year-old star took to her Instagram account over the Fourth of July weekend to post a revealing bikini photo of herself standing between two massive American flags on the beach captioned "an American treasure."
Back in May, Schumer slammed the body-shaming trolls of the world by posting a candid paparazzi photo of her on the beach. Let's just say her photo caption on this one was a little less tight-lipped.
Let's be real, if you don't look like a Agent Provocateur model but you still want to frolic on the beach because you're human and you deserve to live comfortably in your own skin, take notes.
If you ever needed a great example for how NOT to let trolls get under your skin and make you hate natural things about yourself, this is it. And if Instagram posts of you posing on the beach in your bikini aren't your thing, channel your inner Schumer and say, "This is how I look. I feel happy."
Works like a charm!
Citations: Amy Schumer Reminds Us She's 'An American Treasure' In Bikini Snap (Huffington Post)