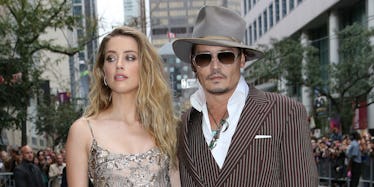 Even Johnny Depp Is Impressed With How Amber Heard Handled The Divorce
Shutterstock
After a tumultuous marriage and a public divorce, Johnny Depp is paying the $7 million divorce settlement he owes ex Amber Heard.
Amber chose to donate the settlement in its entirety to the ACLU and the Children's Hospital of Los Angeles.
Johnny honored Amber's wishes and, according to TMZ, both the Children's Hospital and the ACLU received the first installments of their eventual $3.5 million each.
The Golden Globe winner's rep told the site,
Following Amber Heard's announcement that her divorce settlement was to be divided equally and gifted to Children's Hospital of Los Angeles and the American Civil Liberties Union, two exceptionally deserving and important charities, Johnny Depp has sent the first of multiple installments of those monies to each charity in the name of Amber Heard, which when completed will honor the full amount of Ms. Heard's pledge.
Johnny's rep made a point to mention how much the actor admired Amber's decision to donate the millions.
He said,
Ms. Heard's generosity in giving to these wonderful causes is deeply respected.
The resolution of the couple's separation comes after so much finger slicing and glass smashing, a charitable conclusion is a much-needed bright spot for both of the stars.
Citations: JOHNNY DEPP I'LL HONOR AMBER'S CHARITY PLEDGE AND SEND THE CHECKS (TMZ)