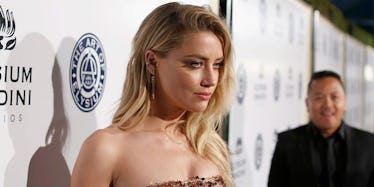 Amber Heard Packs On The PDA With New Boyfriend In Romantic Instagram Pics
Randy Shropshire/Getty Images
There are two things I love most in this world: making out with gorgeous rich people and thinking about other gorgeous, rich people making out with each other. No, not like that, you sicko!
Ok. Kind of like that.
Amber Heard has been flouncing around with apparent new beau, Elon Musk, and I am OK with it!
The actress and Tesla CEO (and alleged billionaire -- BUT IT'S WHAT'S ON THE INSIDE THAT COUNTS!) were first spotted holding hands and linking arms at Currumbin Wildlife Sanctuary on Australia's Gold Coast.
I don't know about you, but wildlife sanctuary just seems to SCREAM sex to me.
After a tumultuous marriage with former husband Johnny Depp, who Heard officially divorced this past January, this new relationship is a welcome development.
Heard posted a teaser into their relationship on her Instagram account this past Sunday, showing a smitten Musk proudly displaying a big ol' kiss mark on his cheek.
The actress PUNnily enough captioned the photo, "cheeky."
Apparently, the couple was first linked together nine months ago at the Miami Delano South Beach hotel. Additionally, Page Six mentioned the budding couple attended a VIP screening of the environmental Al Gore documentary, "An Inconvenient Sequel: Truth to Power."
This couple just LOVES nature, you guys!
Musk himself is no stranger to divorce, having a track record of three different failed marriages, two of which belonged to just one person, actress Talulah Riley. Riley and Musk's second and final divorce came last October.
According to The Hollywood Reporter, Musk began courting Heard after they both appeared in the 2013 film, "Machete Kills."
The report said,
Musk, 45, didn't have a scene with Heard, 30, but apparently became infatuated anyway, according to a source close to the set, and began sending emails to Rodriguez and others — some made available to THR through a confidential source — asking him to set up a rendezvous.
Mmhm... sure, a likely story. How can we be so sure this nature-loving man didn't actually send a detailed letter written in lamb's tears and attached to a carrier pigeon's foot to get her attention?
Guess we'll never know.
Citations: Amber Heard & Elon Musk Are Dating (Refinery29), Elon Musk and Amber Heard attend screening together (Page Six), Elon Musk Requested to Meet Amber Heard Via Email Years Ago (Hollywood Reporter)