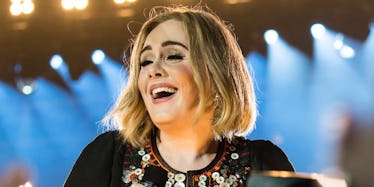 This Video Of Adele Trying To Dance Like Beyoncé On Stage Is Hilarious
REX/Shuterstock
Can Adele and Beyoncé just go on tour together already, please? I'm starting to get impatient.
Now Adele is even teasing us all by practicing her Beyoncé moves on stage, which are, admittedly, hilariously amazing.
It happened this past Sunday at Adele's concert in Melbourne, Australia.
The 28-year-old singer noticed the automatic fan blowing her hair back was giving her that iconic Queen Bey look.
Adele took advantage of the wind and broke out her interpretation of "Crazy in Love."
"I don't know how she does it," Adele exclaimed after giving the "uh-ohs" a quick go. "Even just squatting down there — I've got to practice this, hang on a minute."
Then Adele asked for a beat, and gave the Beyoncé dance all she had.
In fact, maybe she went a little too hard, seeing as when she finished she seemed quite dizzy, jokingly saying, "Medic, medic!"
So look, clearly Adele is already well on her way to learning the choreography. Now all we have to do is get these to on a stage together, you know, once Bey's done being pregnant or whatever.
We already know how much respect these two talented ladies have for each other, if that speech Adele gave at the Grammys is anything to go by.
Adele said,
I can't possibly accept this award, and I'm very humbled and I'm very grateful and gracious, but my artist of my life is Beyoncé and this album for me, the Lemonade album, is just so monumental — Beyoncé, so monumental, and so well-thought out and so beautiful and soul-bearing and we all got to see another side to you that you don't always let us see, and we appreciate that and all us artists here adore you.
Plus, if Adele and Beyoncé release a collab album, then THAT album can win album of the year, and I'll never have to choose between these two queens again.
Not to mention, Adele won't have to go through the trouble of physically breaking her Grammy to share with Beyoncé's Lemonade.
Like, not that that wasn't adorable, but those things are probably expensive.
Adele/Beyoncé World Tour 2K18.