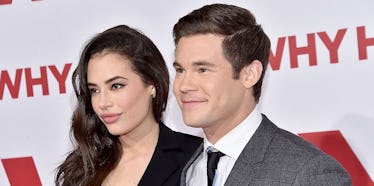 Adam DeVine And His GF Chloe Bridges Are Couple Goals In These 9 Adorable Pics
Getty Images
I love nothing more than a celebrity couple who is attractive and like OH MY GOD, SO RELATABLE, YOU GUYS.
MTV Movie & TV Award host Adam DeVine and his crazy gorg, talented "Pretty Little Liars" girlfriend, Chloe Bridges, love nothing more than to goof around on the red carpet and make everyone jealous.
The couple first reportedly got together in 2015 when working on the film "The Final Girls," and have been hamming it up together ever since.
Their favorite move? Making themselves look as if they are not crazy beautiful celebrities and just two normal people who might have weirdly found themselves at a Hollywood event of some kind.
Here are nine of my favorite photos of the couple and what we imagine they're saying to one another.
1. "I'm going to give them 'Blue Steel.'" "Don't do that." "AH! I did it."
2. "OK, OK, OK, this time let's pretend we're NUTS. Three... two... "
3. "Listen to my humpback whale impression!"
4. "Act normal." "Ow, it hurts."
5. "I just crop-dusted all those paparazzi." "LOLs, me too!"
6. "I'm going with genuine smile." "Crap, I committed to duck face."
7. "Are you sucking it in, Chloe?!" "Are YOU sucking it in, Adam?!"
8. "Where's your ChapStick?" "Little lower in my pocket." "Here?" "No." "Here?" "No." "Here?" "Adam, smile."
9. "OK, just like we practiced... AND VOGUE."
Ah, young love.
Fans can look forward to more hilarious shenanigans this upcoming Sunday on the MTV Movie & TV Awards.
When asked about his hosting gig, Adam told People,
I'm already getting good vibes. I feel like they're probably going to invite me back every year. I feel like I am the biggest movie and television star together as one. Will Smith might have something to say about that but they didn't ask him [to host], they asked me. So who's the bigger star? It's him, but I'm doing the best with what I have.
The awards will be airing live from the Shrine Auditorium in Los Angeles and viewers can watch it all go down Sunday at 8pm ET on MTV.
Citations: Adam DeVine Reveals Why He'll Be a Better MTV Movie & TV Awards Host Than Kevin Hart and Dwayne 'the Rock' Johnson (PEOPLE)