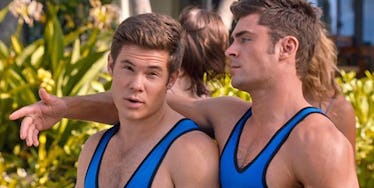 Adam Devine Says He's Much Better Than Zac Efron At This One Thing
20th Century Fox
It seems like no one knows Zac Efron better than his co-star, Adam Devine.
The two play brothers in the movie, "Mike And Dave Need Wedding Dates," so they obviously grew pretty close on set.
In the movie, Adam and Zac play hard-partying brothers who get tricked by two ladies. The ladies out-party them, and basically destroy their lives. The film stars Aubrey Plaza and Anna Kendrick too, so it definitely has a stacked cast.
Elite Daily was able to catch up with Adam Devine about the film and his relationship with Zac Efron. On screen, the guys are constantly partying it up. But do their off-camera lifestyles match up to the characters they portray?
Adam gave us the lowdown, and was ready to talk all things college and partying.
The 32-year-old actor first filled me in on his experience working with Zac, Anna and Aubrey. He says he knew all of them pretty well before they started filming, so it was a great time on set.  He shared,
I knew Anna from working with her in all the 'Pitch Perfect' movies, and I knew Aubrey and Zac from friends of friends... so we just had the best time filming, and it was shot in Hawaii all summer long. It was the dream job and my first time being one of the leads of a movie, so doing it with that crew and cast was incredible.
Adam explained that Zac and him are now tight after working together, which lead me to ask a few questions about their partying ways.
When asked who was the bigger college partier, Adam made it clear he'd be the superior frat bro. He explained,
Zac is the best, a really great guy. I think he could fall into many different college groups because he can sing and dance and play the guitar... and just do all these things that I can't do. But what I am really good at is chugging beers and aggressively bonding with my friends.
Give yourself some credit, Adam. You should be very proud.
Oh, and when it comes to chugging beer, Adam wants us to know that he'd destroy Zac.  He added,
Zac is so lean, so he doesn't chug. I've got the body built for beer chugging.
I kind of think these two need to battle it out. I want to see for myself.
After speaking with Adam, it's clear that he killed it in college. Because he's such a pro, Best Buy launched a "How To College With Adam Devine" campaign that gives students back-to-school deals and essential tips on #HowToCollege.
Adam shared,
I hope our approach on how to tackle the tough college stuff helps show how easy Best Buy makes tech for families. It's a fun twist on the usual laundry list of back-to-school essentials for what can often be a challenging time for both parents and students.
Aw, Adam. Always giving back.
If you're heading back to school in September, I suggest you hit up Best Buy to get the latest tech gadgets to use in all your college classes.
Thanks for the tip, Adam!