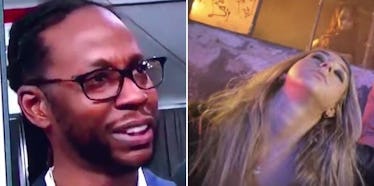 2 Chainz Had No Idea 'Bachelor' Contestant Corinne Was In His Music Video
E! / YouTube
2 Chainz watching Corinne from "The Bachelor" in his music video for the first time is already my favorite 2017 Grammy moment.
For those of you who, like 2 Chainz, had no idea this was a thing...
Yes, Corrine, this year's "Bachelor" villain, makes an appearance in the music video for the 2011 song "Zip & A Double Cup" by Juicy J, 2 Chainz and Tha Joker.
When "Bachelor" fans discovered this gem a few weeks ago, we were all pretty delighted, and the video blew up.
In fact, it blew up so much it finally got back to 2 Chainz himself on the 2017 Grammy red carpet.
The 39-year-old rapper was shown Corinne's part of the video while being interviewed by E!'s Giuliana Rancic.
Here was 2 Chainz's reaction to Corinne:
He said,
What was she doing? Is she OK? She was... she was feeling good.
When you see Corinne in this, you really can't blame 2 Chainz for that reaction.
She was definitely "feeling good," all right.
Like, she was feeling really, really good.
2 Chainz went on to explain to Giuliana Rancic that while he does remember the video, he doesn't remember Corinne specifically.
He said,
When I do videos I try to be professional. I try to do business. So I don't try to mingle with, you know, the workers. But it's good to see that she was close to me and that she's become a success.
Sorry, can we just get another look at 2 Chainz pulling a "Yikes" face while watching Corinne in his video?
Oh man. I can already tell this will never get old.
2 Chainz also said to Giuliana Rancic he "probably" would not do a reality show like "The Bachelor," unless "the money was good."
Well, don't worry 2 Chainz: Corinne is OK. She's currently making it big as literally the only memorable contestant on "The Bachelor" this season.