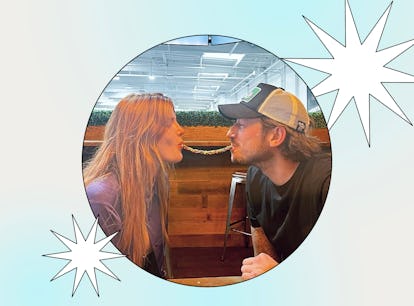 Apparently, 2023 Is The Year Of The Valentine's Day Hard Launch
From Bella Thorne to Emma Chamberlain.
Valentine's Day has traditionally been the known as the day for candy hearts, stuffed bears, and Hallmark holiday cards. But in 2023, celebrities are taking a more digital approach to the day of love. On Instagram and beyond, celebs are hard launching their relationships in honor of Valentine's Day 2023 — and their sweet words are way more creative than the classic "Be Mine" slogan.
On Feb. 14, several celebrities started posting about their SOs for the first time, making this Valentine's Day the holiday of the hard launch. Celebrities like Emily Ratajkowski, Bella Thorne, Lizzy McAlpine, and Emma Chamberlain all went official with their partners to celebrate V-Day. Here's what they shared about their love lives.
Emily Ratajkowski
Emily Ratajkowski started it off with a semi-hard launch on Feb. 13, sharing a photo of both Eric Andre and Diplo on her IG Stories. (She's dating Andre, BTW.) Since January, they've been spotted together several times on dates in New York City, but only made things official-official when Andre posted nudes on Instagram, featuring EmRata. "💘 💘💘💘💘Happy Valentine's Day 💘💘💘💘💘," he captioned the NSFW Instagram.
Bella Thorne
Bella Thorne also went IG Official with her boyfriend on Feb. 14. Thorne has reportedly been dating producer Mark Emms since September 2022, per People. However, she waited until V-Day to put it online. "Find someone u want to share ur candy with 😍Ps.this sexy tall British man is mine so get yah own cuz I feel like kickin *ss today," she captioned the post, sharing several photos of her and Emms together.
Lizzy McAlpine
TikTok's favorite Lizzy McAlpine (who sings "ceilings") made her relationship debut on Instagram and YouTube. McAlpine cast her boyfriend Michael Hanano to play her boyfriend in her new music video for her hit song. "hard launch link in bio," she announced on IG. Hanano wrote in his post, "Portrayed my girlfriend's boyfriend for her new music video 💌 🤪."
Emma Chamberlain
Emma Chamberlain rounded out the hard launches with a feature on GQ. The Youtuber has been seeing musician Tucker Pillsbury, aka Role Model since they started texting during the pandemic. (Chamberlain even made a soft-launch appearance in Pillsbury's March 2022 music video for "neverletyougo.") During their sit-down with GQ, Chamberlain calls the interview "hard-launch vibes," she said. "I know that people are going to be like, 'Emma, you're a fucking hypocrite,' because I always said this is something I will never do. There's parts of our relationship that are going to be private forever, and those things we keep sacred. But I don't think we need to be secret anymore. It's just like, I'm over that sh*t."
Apparently, Chamberlain thinks it's more fun this way. "That used to be my mindset: 'I'm protecting this at all costs and not letting anybody see it.' But, actually, that's not fun. It's not f*cking fun. And what's life about? Having f*cking fun, okay? Sh*t should just be f*cking fun! Why stop yourself from doing that?" she explained.
Here's to all the Valentine's Day hard launches — ahem, *heart* launches.