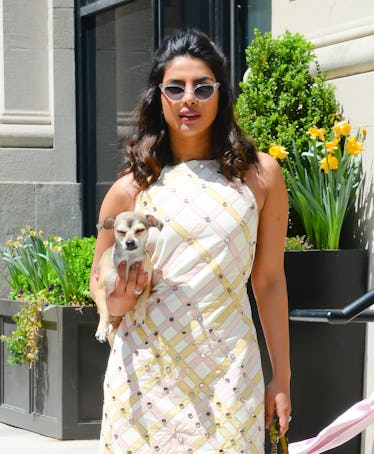 These Ridiculously Cute Photos Of Celebrity Dogs Will Make Your Day
I can't get over how cuddly they all are.
Raymond Hall/GC Images/Getty Images
Okay, I'll just say it: one of the only reasons to scroll through Instagram is to get a glimpse of the cutest celebrity dogs. From Kylie Jenner's pup, Kevin, to Miley Cyrus' pit bull, Angel, celebrity dogs rack up all the likes on social media, and fans can't get enough of them. While humans can be kind and loving, there's no comparison to the unconditional love dogs possess, and despite any scientific facts, dogs are just better than people. Period. Here are 19 of the cutest celebrity dogs you won't be able to get out of your head.
Along with exercising and eating healthy, scrolling through dog pictures is probably one of the best ways to relax, take a break, and genuinely appreciate how sweet these little fur balls can be. Some of them even become celebrities of their own, since their owners are so insanely famous. Whether you're benefitting your well-being with a cute dog of your own at home or you're just looking for something sweet to stare at, these celebrity dogs will make you feel warm and fuzzy inside.