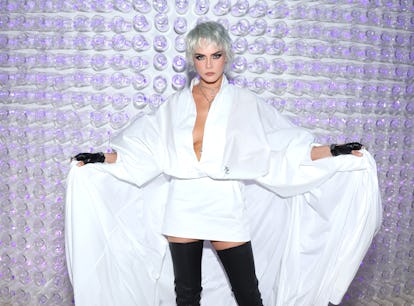 Cara Delevingne Got A New Tattoo... Except 1 Word Is Misspelled
Cara Delevingne is no stranger to the tattoo needle. The actor-model has more than 20 pieces of art on her body, ranging from white ink slogans to matching florals with close friends Selena Gomez and Paris Jackson. While she might be planning to remove some of those older tattoos, she's not completely wiping the slate clean. Delevingne recently added new ink to her collection; however, it seems its message got lost in translation.
For this art, the Only Murders in the Building actor went a new direction. Instead of going to her usual go-to tattoo artists Keith McCurdy and Doctor Woo, who did most of her previous ink work, Delevingne went to Italian artist Matteo Nangeroni. Nangeroni's designs blend minimalistic shades with abstract (almost surrealist) figures, and that mixture came alive in Delevingne's new tattoo.
On Sept. 26, Nangeroni shared a photo of the actor posed with her new body art on his Instagram. The work features a dot above a partially drawn face, and text below that reads: "dormiveglia: (n.) the place that stretches between sleeping and walking." Though a stunning graphic, the tattoo definitely had fans in the comments split. While some admired its clean intricacy, others couldn't get over the Italian word's butchered definition.
Here's the tea: Dormiveglia, which translates to "half-awake," is actually defined as the "place between sleeping and waking." As seen in Delevingne's tattoo, a rogue consonant mistakenly changed "waking" to "walking." It's interesting how much one letter can revamp a word's definition, and Nangeroni's followers weren't shy in pointing that out in the comments.
One commenter wrote, "Nooo….you spelled it wrong," while another added "walking or waking?" A third user seemed to give them the benefit of the doubt, asking if the misspelled word was a "choice or a typo?" Oof.
Typo or not, it seems Delevingne fully appreciates the new ink. Shortly after the artist shared it on his Instagram, Delevingne reportedly shared it to her Stories with two red hearts. While it appears this new ink should've been triple-checked for accuracy, it's certainly here to stay.