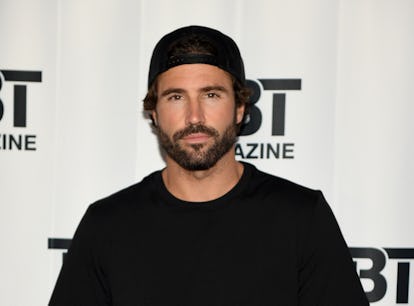 Brody Jenner Wants To Be The "Exact Opposite" Of Caitlyn As A Parent
The new dad is hoping to break patterns.
Derek White/Getty Images Entertainment/Getty Images
Brody Jenner is officially a father, and he got pretty blunt about how he feels about this next step. The reality star has had a pretty rocky relationship with his own father, Caitlyn Jenner, which he said has shown him everything he doesn't want to do when raising his own child. Brody got very candid about wanting to be the "exact opposite" type of parent that Caitlyn was to him in a video chronicling the birth of his daughter.
Brody and his fiancée, Tia Blanco, announced the birth of their daughter, Honey Raye Jenner, in an Aug. 10 Instagram post, revealing their first child had been born on July 29. To accompany the announcement, Brody and Tia uploaded a vlog to their joint YouTube channel, which captured moments from their baby shower, proposal, and their home birth. In the days leading up to Tia's due date, Brody spoke about his commitment to always be there for his daughter, since he had felt the pain of having an absent father himself.
"What I'm most excited about is doing things differently than my father did," Brody said. "Growing up, I didn't have the greatest relationship with [Caitlyn]. [She] wasn't really around for me growing up, so I think just doing the exact opposite, being the absolute best father I can possibly be."
This isn't the first time Brody has spoken about his past issues with Caitlyn. Back in 2019 when The Hills: New Beginnings premiered, Brody reflected on his lack of a father figure as a child.
"I didn't really grow up with my dad," Brody said on the show. "[Caitlyn] was just never really around — every so often, maybe once every couple years. Wasn't around for my graduation, wasn't around for most of my birthdays, so, yeah, it really wasn't any relationship. It was very surface."
Despite their past issues, Brody and Caitlyn don't seem to be on terrible terms these days. Caitlyn even made a brief appearance in Brody's video, confirming she did indeed attend her son's baby shower.