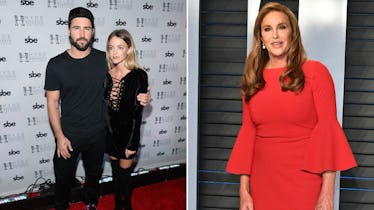 Brody Jenner's New Wife Just Shaded Caitlyn Jenner So Hard For Missing Their Wedding
Bryan Steffy/Dia Dipasupil/Getty Images Entertainment/Getty Images
Weddings are a pretty special day, and it makes sense to want to have your closest family and friends surrounding you as you tie the knot. So when a close family member — say, a parent — decides not to attend, I can see how that would rub the newly married couple the wrong way. And that's exactly what happened when Caitlyn Jenner opted to skip Brody Jenner's wedding due to prior work commitments. Considering Brody Jenner & Kaitlynn Carter shaded Caitlyn Jenner recently for missing their wedding day, they're probably not happy. Eesh.
Back on June 7, Brody (who is Caitlyn Jenner's son, btw), and his girlfriend of five years, Kaitlynn Carter, got married at Nihi Sumba, a luxury island resort that's located right off the coast of Indonesia. Pretty rad, yes? While my invitation must have gotten lost in the mail, dad Caitlyn Jenner's did not, and was asked if she would attend the wedding.
Surprisingly, Caitlyn didn't attend their destination wedding, telling Page Six that she had "previously scheduled work commitments." I mean, correct me if I'm wrong, but don't you feel like watching your son recite his vows seem a little more important than something you've scheduled for work? I digress.
According to People, Brody was less-than-pleased after Caitlyn decided not to take the trip, telling the mag,
It was a big disappointment… Especially considering that she had known about the wedding for a year.
Oooooh, let the shade commence, people.
Not only did Caitlyn not attend the wedding, Brody's sisters, Kendall and Kylie (you *might* have heard of them?) apparently didn't even bother to send back their RSVP — the ultimate cardinal sin of wedding etiquette, FYI. He told People,
My two little sisters, we never even heard from them. They never even RSVP'd I don't think. We sent them an invite but we just never heard anything back. Well, they'll be missed. I would have loved to have had them there.
Ouch, man. Having three immediate family members essentially bail on your wedding day has got to suck. Brody, I'm telling you, if my invite wasn't lost in the mail I would have totally stood in for them.
And now that Brody and Carter have exchanged vows, they flew back to L.A. and are ready for some much-needed post-wedding R&R. As they exited LAX Airport, TMZ approached the couple, asking details about their wedding, and if they'd show videos to family members who couldn't make it to their celebration. Brody repeats the pap's question, asking, "Send a video?" because honestly, that question is a bit weird (but definitely seemed to be 100% geared toward a specific family member who goes by the name of Caitlyn Jenner). Brody sort of brushes the question off, without giving any real response.
But Brody's new wife, Kaitlynn Carter, had no reservations about answering the question with her honest opinion, saying, "They should have gone if they wanted to see it."
Preach, sista!
Brody added to his wife's response, saying, "If they want to see a video... If they ask for one, then sure, we'll send them a video." That response sort of sounds nice on paper, but it's the tone in his voice that makes me think he's being a little bit sardonic — which I think he certainly has a right to be, by the way.
But don't be too sad for Brody, because he did have his mother, Linda Thompson, there with him. Thompson took to Instagram to re-post a video of the gorgeous scenery at the Nihi Sumba Resort, where her son and Carter got married. She wrote,
This is the beautiful location where @brodyjenner & @kaitlynn got married! Yes, it's on the other side of the world… But I would've gone to the moon and back to share in the joy of my darling son & his beautiful bride getting married! That's what parents do! 😉
LINDA, COMIN' IN HOT WITH ANOTHER SICK BURN! Guess subtle shading runs in the family... and I don't hate it.
A big congratulations to the happily married couple — now let's just hope that those who didn't attend still managed to send a gift in the mail.