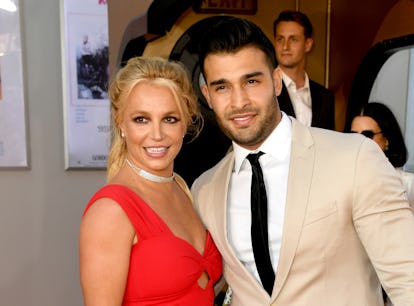 Britney Got A New Puppy After A Reported Dog Custody Battle With Sam
She's welcoming a new addition to the fam.
Kevin Winter/Getty Images Entertainment/Getty Images
It looks like one of the most contentious aspects of Britney Spears and Sam Asghari's divorce has been settled. On Aug 21, a source told the Daily Mail that the couple's dogs would be "the most difficult part of dividing any assets." Spears and Asghari have five dogs in total, and insiders predicted that figuring out who would keep them would prove to be a difficult task. However, as of Aug. 22, TMZ reported that Spears and Asghari had come to a dog custody agreement — and one day later, Spears bought another puppy to add to the mix.
"Introducing Snow … the new [addition] to the family … it's her world and we just live in it 🤦🏼‍♀️ 🤦🏼‍♀️ 🤦🏼‍♀️ !!!" Spears wrote on Instagram on Aug. 23, sharing a video of her new puppy.
According to their reported dog custody agreement, Spears recently had to say goodbye to her Doberman, Porsha. Asghari purchased the dog for Spears as protection in 2021, but he's apparently keeping Porsha in the divorce. (On Aug. 22, he was photographed taking Porsha for a walk without his wedding ring.) Spears is reportedly keeping their four other dogs, including Sawyer, an Australian Shepherd they adopted together in Maui in 2022.
Rumors of Spears and Asghari's divorce began on Aug. 16, when TMZ and People reported the couple had been "struggling for months" through a "toxic" marriage. At the time, a second source told People, "Their marriage has been on the rocks for months. There has been constant drama. It's sad. A divorce would be devastating for Britney."
By Aug. 19, both Spears and Asghari confirmed the breakup themselves. "After six years of love and commitment to each other, my wife and I have decided to end our journey together," the actor wrote on Instagram on Aug. 17. "We will hold onto the love and respect we have for each other and I wish her the best always."
On Aug. 19, Spears wrote about the split on Instagram. "6 years is a long time to be with someone so, I'm a little shocked but … I'm not here to explain why because its honestly nobody's business," she said. "But, I couldn't take the pain anymore honestly !!! ...You're supposed to be loved unconditionally … not under conditions !!!!" She also assured fans that she was doing "pretty damn good," all things considered.
More details on the couple's divorce settlement have not been released, but at the time of their engagement in September 2021, Asghari did joke about having an "iron clad prenup." He wrote on IG Stories, "Thank you for your concern about the prenup! Of course we're getting [an] iron clad prenup to protect my jeep [sic] and shoe collection incase [sic] she dumps me one day."