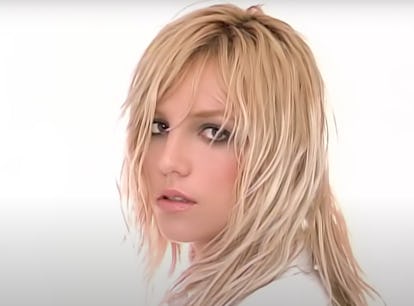 The Songwriter For Britney Spears' "Everytime" Addressed Those Rumors
She got real about the song's true inspiration.
For two decades, Britney Spears fans thought they had her most famous ballad all figured out. When the pop star released "Everytime" in 2003 as a part of her album In the Zone, everyone assumed it was her response to her high-profile breakup with Justin Timberlake. The emotional ballad is certainly about the loss of a meaningful relationship, but after Spears revealed new details about her time with Timberlake in her 2023 memoir The Woman in Me, fans are hearing the song completely differently.
Ahead of the release of Spears' memoir, an excerpt was published early that detailed a particularly painful moment during her relationship with Timberlake in the early 2000s. Spears revealed she had gotten pregnant, but then got an abortion when it was clear Timberlake "wasn't happy about the pregnancy."
"If it had been left up to me alone, I never would have done it. And yet Justin was so sure that he didn't want to be a father," Spears wrote of the decision.
The revelation led to several fans revisiting what has long been thought to be her breakup song dedicated to Timberlake, "Everytime." But with all this new info, the song seems to take on a whole new meaning. The "baby" in the chorus may be more literal than a pet name for Timberlake.
"And every time I see you in my dreams / I see your face, you're haunting me / I guess I need you, baby," Spears sings, leading fans to a whole new speculation. "Oh so britney spears' everytime wasn't about justin timberlake but it was about the baby?!," one person posted.
The lyrics in the bridge also seem to allude to Spears' regrets. "Please forgive me / My weakness caused you pain / And this song's my sorry." "'Everytime' by Britney Spears will never be the same after this revelation," a fan account wrote. "It all makes sense now…"
Notably, the music video for "Everytime" ends with a baby being born. "The baby in Britney Spears' Everytime video represents the one she was supposed to have with Justin Timberlake," a fan account theorized.
However, shortly after the theory went viral, the songwriter for "Everytime" shot it down. Annet Artani, who co-wrote the ballad with Spears, told TMZ that Spears never mentioned a baby or abortion during the songwriting process, and that the lyrics were actually more inspired by Artani's own recent breakup.
But on the other hand, Artani also admitted she was not involved in the music video imagery, so there's still a possibility the baby in the video is meant to be a reference to Spears' tough decision.
This article was originally published on