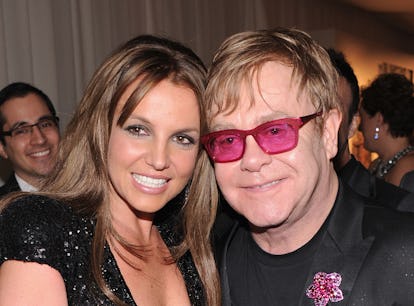 Finally! Britney & Elton's New Song Is Coming Friday
They released a teaser video too.
Jamie McCarthy/Getty Images Entertainment/Getty Images
The countdown has officially started for Britney Spears' musical return. On Aug. 24, Britney and Elton John both announced on Instagram that their highly-anticipated single, "Hold Me Closer," will drop on Friday, Aug. 26.
Elton posted a dreamy teaser for the track, which showed a rocket soaring above a sea of roses. The video is symbolic of the duo's careers. Elton has a thing for rockets with his 2019 biopic titled Rocketman. It's also a name for his 1972 song. Meanwhile, Britney routinely posts about her Project Rose on Instagram.
Rumors about their collaboration first spread on July 25 when Page Six reported the duo met at a recording studio in Beverly Hills to record an update of "Tiny Dancer," Elton's 1971 song. According to the publication, they worked with producer Andrew Watt on the track.
"This was Elton's idea, and Britney is a huge fan," an insider reportedly told Page Six. The source added that the two played the song for Universal Music, who said it would be "the song of the summer." On Aug. 8, Variety confirmed the track's title.
Also, on Aug. 8, Elton officially announced the track's presence by posting the single artwork on his Instagram. The photo featured the title of their new song along with a rose and rocket emoji.
To further drum up anticipation for the record, Elton gave fans a sneak peek of "Hold Me Closer" on Instagram on Aug. 23. In the video, Elton is seen sitting behind the restaurant's DJ booth in Cannes and swaying to the song. Upon listening to the video, it appears the track interpolates Elton's classic hit, "Tiny Dancer," and uses lyrics from his other hit, "The One."
Buzz is high for the track, considering it will be Britney's first new song release in over six years and her first since leaving her conservatorship in November 2021.
On Aug. 24, Britney also posted about the song on Instagram, where she thanked Elton for working with her. "How cool is it to be a background voice ON YOUR song 🎤 !!! Sir Elton I did it thanks to your genius, creative, and legendary mind 🧠 !!! I am so grateful !!!" she said in part.
"Hold Me Closer" is definitely set to be the song of the summer with these two legends on the track.
This article was originally published on