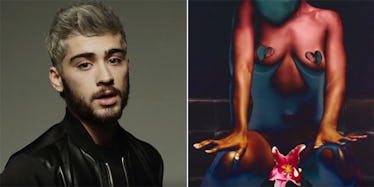 We Asked Experts To Identify Every Flower Vagina In Zayn's 'Pillowtalk' Video
Zayn is ALL about botany nowadays.
The video for "PILLOWTALK," Zayn's first music video since splitting off from 1D, dropped late last night, and we have SOOOO many questions.
Most importantly, though, what's up with that flower lady?
OK, yes. Obviously that is Mother Earth, and she is hanging out in Zayn's apartment, which is made of just colorful oils and glass pellets at the end of the world's largest kaleidoscope. Duh, we obviously got all that.
My question is more like,
Hey! Zayn! What kinds of flowers are these?
How am I supposed to create a shot-for-shot remake of this video using just myself, a Handycam and some tasteful pasties without having the RIGHT flowers?
I want to give people a visual filet mignon, not slum it in the chops section of a Zayn-themed Golden Corral.
Using the help of Mark Allen Wetter, senior academic curator and collections manager in the University of Wisconsin-Madison's department of botany, and florist Alberto (no last name, like Zendaya), who runs Blooming Affairs Floral & Event Design (everyone go check out his Yelp page), I was able to get the skinny on Zayn's floral choices for the "PILLOWTALK" video.
1. Zayn's Vagina Flowers: Part One
"It is an Oriental poppy (Papaver)." - Mark Allen Wetter "The image is very distorted. It could be a cactus, though, with some flower pedals off the side." - Alberto
2. Zayn's Vagina Flowers: Part Two
"Maybe a lily or an orchid. They all come in different colors. It is big enough to cover 'her,' so I'd definitely say lily." - Alberto
3. These are just like regular flowers -- oddly normcore for this mess of a video.
"It's a mixture of at least two different flowers: The flowers with the big fat petals (main pink flower and the one to the left of it) are peonies (Paeonia), and the flowers with small strap-like petals are either mums (Chrysanthemum) or Gerbera (Gerbera) daisies. Both of these two are in the same plant family, and without seeing the leaves, it is not easy to tell them apart. There may actually be at least one other type of flower in the image -- it's hard to tell from the image." - Mark Allen Wetter
4. THERE WE GO! BACK TO WEIRD STUFF!
"It is so stylized that it may just be a computer graphic; if a flower, it could possibly be a parrot feathers tulip (Tulpia), but a positive ID is impossible." - Mark Allen Wetter "Probably some sort of orchid." - Alberto
At the end of the day, the most important thing is we recruited a new Zayn Malik fan.
"This is actually a kind of good video." - Alberto