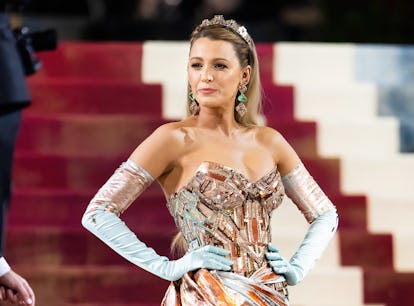 2023 Is The Year Our It Girls Are Skipping Their Signature Events
Gilbert Carrasquillo/GC Images/Getty Images
Staying in is replacing stepping out, it would seem. At least, that's what Blake Lively and Vanessa Hudgens have decided in 2023. Just a couple of weeks after Hudgens, the queen of Coachella, revealed she skipped the music festival this year, Lively announced she'd also be missing out on her own signature event: the Met Gala. Here's why Lively and Hudgens' choice to keep things low-key has fans wondering about the future of flashy, celeb-filled spectacles.
Lively shocked the fashion world on April 27 by revealing to People that she would not be attending the Met Gala on May 1. Instead, the actor said she'd be watching the event on her coach at home. It's understandable, considering Lively recently gave birth to her fourth child with Ryan Reynolds, but Met Gala devotees were still surprised by the decision, given that Lively is considered a staple of the event and was considered the star of 2022's red carpet, which she also co-chaired. Lively has consistently attended fashion's biggest night since 2008, only skipping out a couple of times in those 15 years. She's become well-known for the meticulous detail she puts into her looks for the gala.
The Met Gala brushoff notably came less than two weeks after Hudgens' similarly shocking absence from Coachella. On April 15, during the 2023 festival's first weekend, Hudgens confirmed she wasn't at the event by posting about her "Coachella FOMO."
This marked one of the only times in the past 13 years that Hudgens didn't attend Coachella. Due to her nearly perfect attendance at the annual festival and the headline-making outfits she always shows up in, Hudgens had become known as the unofficial queen of Coachella. But this year, the party had to go on without its reigning darling.
After Lively's announcement, people online began to notice a trend of It Girls not going to their signature events this year, with some even suggesting it could be a sign that these buzzy gatherings just aren't what they used to be.
Although Lively will be chilling at home, the Met Gala will still persist on Monday, May 1. This year's theme is in honor of Karl Lagerfeld, the legendary designer who passed in 2019.