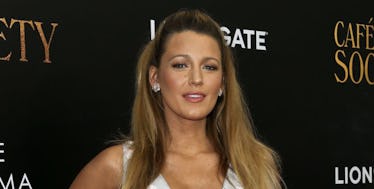 No One Can Get Over How Good Blake Lively Looks In This Mini Dress
Rex/Shutterstock
We cannot get enough of Blake Lively these days. Sometimes she makes people angry on Instagram, but most of the time, she knocks it out of the park with her impeccable style and existence in general.
Last night, at the premiere of Woody Allen's new film, "Café Society" in New York City, Lively flaunted her pregnant belly in this adorable mini dress.
Well, some people thought it was adorable. We're not really sure about how we feel about this look (little white tufts and all), but she can obviously pull anything off. You know that saying, "The clothes don't change for you, you change for the clothes"? Yeah, that doesn't apply to Blake Lively. Literally, everything she wears looks like it was meant to be worn by her, and only her.
Honestly, this woman could probably work a dress made out of twigs and tin foil. She's been showing off her dazzling maternity looks since May, wowing us with every ensemble.
And by the looks of that baby bump, she's getting pretty close to welcoming her second baby with hubby Ryan Reynolds.
Seriously, though. #MaternityFashionGoals.
Look at that glow.
From afar, this dress kind of looks like it's covered in cotton balls.
TBH I'm kind of concerned for her feet in these glam stilettos...
We're not worthy of your chicness, Blake!
Citations: Blake Lively just nailed ~maternity-chic~ in a pocketed mini dress fit for a queen (Hello Giggles)