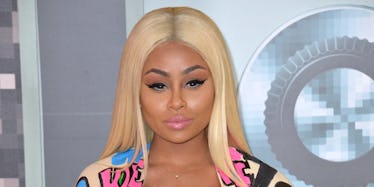 Blac Chyna Just Shared How Much Baby Weight She's Already Gained
Shutterstock
If Blac Chyna's Snapchat is anything to go off of, her pregnancy is well on its way to success.
The model, whose expecting a child with Rob Kardashian, has been gaining weight pretty quickly, which apparently made people on the Internet think they should insult her, because, you know, that's what happens during pregnancy.
First, Chyna told off the haters, saying,
To all you people out there with negative comments and insecure words (obviously because you have nothing else to do but criticize the next), I AM HAVING A BABY! Exactly what do you expect to see?!
And now, Chyna's apparently totally over the entire idea of her weight and what people think about it because she revealed over Snapchat exactly how much weight she's gained so far.
She casually revealed her weight gain while she was hanging with her 3-year-old son, King Cairo Stevenson, whom she had with her ex, Tyga.
What a cute kid King is. He thinks he's squishing the baby! How adorable. I hope Chyna's next kid is as cute as King is.
ANYWAY, according to Cosmopolitan, Chyna said in a Snapchat,
Uh oh! Mommy gained 20 pounds.
Well hey, like I said before, weight gain is just a totally normal, expected part of pregnancy, so good for you being able to put that out there, Chyna.
F*ck haters, have babies.
Citations: Blac Chyna Reveals EXACTLY How Much Weight She's Gained During Her Pregnancy (Cosmopolitan)