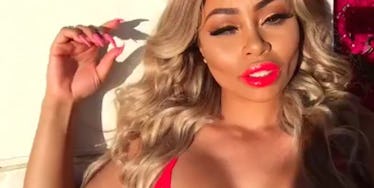 Blac Chyna Slams Haters Who Allegedly Criticized Her For Gaining Baby Weight
Blac Chyna doesn't hold back when it comes to defending herself.
The 28-year-old is allegedly being criticized for gaining weight since becoming pregnant. People went to social media to harass her after recent paparazzi photos of the star were posted.
According to E! News, people commented on the photos of Blac Chyna wearing no makeup and a jumpsuit telling her she is "fat," "gross" and "disgusting."
Blac Chyna reportedly commented back on the Instagram account, saying,
To all you people out there with negative comments and insecure words (obviously because you have nothing else to do but criticize the next), I AM HAVING A BABY! Exactly what do you expect to see?! If I walked out in makeup and heels everyday to be beautiful to your means I WOULD BE MISERABLE AND UNHAPPY which are two vibes I refuse to transfer to my little one. If I comment on ya'll pics and go in on them tired ass weaves or unblended contours i'll be wrong, right? It'll be tragic! So stop playing and Put Some Respeck on My Name.
You can see a screenshot of Blac Chyna's alleged comments in the Instagram below.
Blac Chyna and Rob Kardashian announced at the beginning of May they are expecting a child together, so it's unfortunate to hear Internet haters are already shaming Chyna for her pregnancy.
Chrissy Teigen was also shamed as a new mother, so perhaps haters can just take a seat and let the ladies live.
Citations: Blac Chyna Haters Baby Weight (E! News)