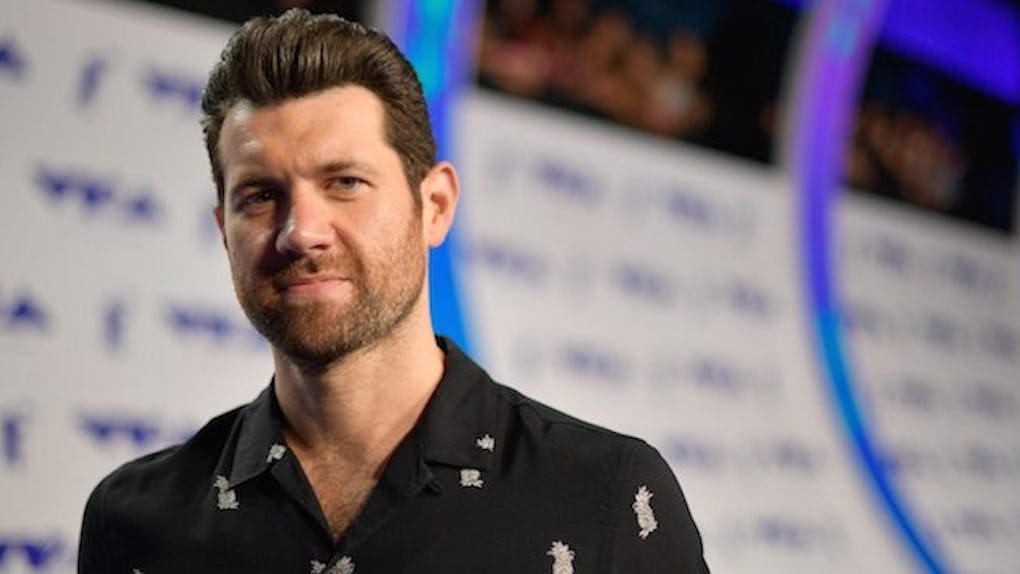 Getty Images. Matt Winkelmeyer / Staff
Who Does Billy Eichner Play On 'American Horror Story: Cult'? The Comedian Switches Gears
In the tradition of the AHS franchise, the show stays shrouded in a lot of mystery up until each season's premiere. What fans can count on is that there will be a plethora of clues, photos, and teasers beforehand to analyze in order to help piece together the puzzle to come. We're already getting plenty of hints to hold us over until Sept. 5, but there are definitely a few unanswered questions when it comes to the casting, including, who does Billy Eichner play on American Horror Story: Cult? The show has been pretty mum about how he'll fit into the story, although he did offer up a morsel of intel that will have you "buzzing" with intrigue.
When asked about his AHS: Cult role, Eichner had a one-word answer for PopSugar. "Beekeeper," he revealed to them at the VMAs on Sunday. So, we'll take that description literally and metaphorically, because this is AHS and there's likely more than meets the eye.
What we do know Eichner's character is named Harrison Wilton. He's a neighbor to Sarah Paulson's Ally Mayfair-Richards and potentially the husband of Leslie Grossman's character, Meadow Wilton. But what about those bees? According to EW, Ryan Murphy revealed at a recent Q&A, "Bees are the original cult." Ah-ha. Is Wilton the mastermind behind some cultish happenings or just merely just a follower with some pull? Perhaps he'll be controlling the hive in more ways than one. 
Eichner's character poster doesn't exactly show him in beekeeping garb or anything, he just looks like a normal suburbanite in a fitted varsity jacket. But again, this is AHS, where all normalcy goes out the window.
We already know Billy Eichner as a master of pop-culture skewering in Difficult People and social media, the hilarious screaming star of Billy on the Street, and even a deadpan doc on Friends With College. What can we expect from his latest role, aside from bees? "I get to be dramatic and violent and sexual," he told ET. "People may not be prepared to see that side of me."
Harrison Wilton is just one of many mysterious characters we can prepare to see this season. We already know that Sarah Paulson plays a Michigan woman who has a, let's say, strong reaction to the 2016 election. Evan Peters plays some sort of unhinged cult leader (actually, multiple cult leaders!), and Billie Lourd's Winter Anderson appears to be somewhat of his trusty associate. Lena Dunham will also appear as the non-fictional Valerie Solanas, the writer who tried to assassinate Andy Warhol back in the late '60s. According to the trailer, clowns are back in a huge way this season, possibly connecting to the election. And the images are already giving us plenty of nightmares.
So, now we have clowns, cults, and bees to worry about. Great. Thanks, AHS.