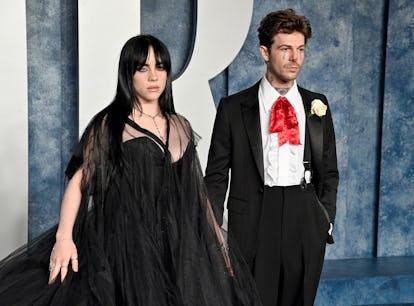 Billie Has Reportedly Broken Up With Her BF Jesse
The relationship received a lot of public scrutiny from fans.
Lionel Hahn/Getty Images Entertainment/Getty Images
It sounds like it's the end of the road for Billie Eilish and Jesse Rutherford. After seven months of dating, the couple has reportedly called it quits, but despite all the chaos their relationship stirred up online, the breakup was apparently drama-free. The reported reason for Eilish and Rutherford's breakup definitely wasn't as dramatic as some fans were expecting.
Eilish and Rutherford's relationship became a lightning rod for discourse ever since they first began dating in October 2022. Fans constantly brought up the large age gap between the two — Rutherford, 31, is a full decade older than Eilish, 21. The couple even played into the fan response by dressing in knowing Halloween costumes exaggerating their age gap: Eilish dressed as a baby while Rutherford went as an old man.
Although they put on a united front amid backlash, reports that Eilish and Rutherford went their separate ways surfaced on May 17. "We can confirm Billie and Jesse did split amicably and remain good friends," read a statement from Eilish's team sent to Page Six. The rep also added that any reports of infidelity are "false."
The breakup reports didn't come as too much of a surprise for fans. Eilish and Rutherford hadn't made as many public appearances together in recent months. Their last outing was a low-key day at Coachella in April. That was also around the time Eilish last shared a photo with Rutherford, posting an intimate pic of his hand on her leg on April 11. Notably, Eilish attended the Met Gala solo at the start of May, sparking whispers of a potential breakup among her fans, who expected her to have Rutherford by her side.
Eilish and Rutherford's relationship last about seven months. They were first spotted kissing over long dinners in October 2022, before memorably confirming their relationship in November by hitting a Gucci red carpet with a giant blanket over their shoulders. They presumably broke up earlier in May or in late April, but it sounds like there was no drama causing the split.