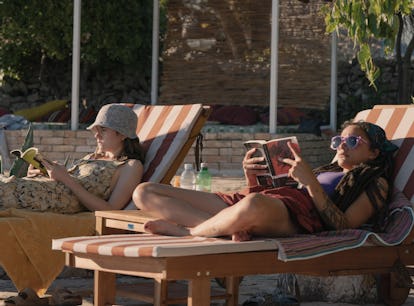 The 11 Biggest Differences Between The Conversations With Friends Book And Show
It was a pretty faithful adaptation, but there were still some changes.
Hulu
Sally Rooney released her first novel, Conversations with Friends, in 2017 to critical acclaim. But it was her second novel, 2018's Normal People, that brought her mainstream stardom when it was adapted as a 12-episode Hulu series in 2020. Following that series' success, Hulu went back and adapted Rooney's first work, also for a 12-episode run. Like it was with Normal People, this new adaptation is quite faithful, but there are still some key differences between the Conversations With Friends book and series.
Spoiler alert: Spoilers for Conversations With Friends follow. The novel and the resulting show are complex and frustrating at times as they highlight the life of introverted college student and poet Frances (Alison Oliver), who exists at the center of a group of four friends who take turns desiring and despising one another: Frances and Bobbi (Sasha Lane), best friends who used to date, become entangled with a successful married couple, Nick (Joe Alwyn) and Melissa (Jemima Kirke); Nick and Frances begin an affair while Bobbi develops a crush on Melissa. Of course, mess ensues, and like with any Rooney work, the audience is left unsure of who to love and who to hate; who is the victim, and who is the perpetrator.
Although Rooney was only involved in the planning stages and casting of Conversations and not the script or filming, the show largely remained true to the book, often using Rooney's writing verbatim in the characters' dialogue. Executive producer Ed Guiney told Vanity Fair, "When we had questions about things, we would always look back at what Sally had written, and move toward that."
Some key differences in casting and the script did occur, though, adding layers to the themes and altering the feel of the adaptation.
Content warning: This story references self-harm and mental health.
All book-to-screen adaptations have a degree of difference, because audio and video naturally adjust the vibe of a story. For the producers of the Conversations adaptation, though, it seems maintaining Rooney's writing was of utmost importance. Although Rooney loyalists may still be able to pinpoint some changes, all fans can at least be thankful the sex scenes largely stayed true to the steamy book.