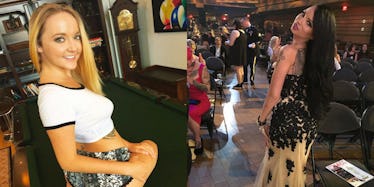 9 Porn Stars Recommend The Best Mainstream Movies For 'Netflix And Chill'
Who would have thought that a streaming movie and television service would facilitate millennial hookups? Gone are the days of driving your date to a secluded hill overlooking the city with a name like "Makeout Point" or "Pregnancy Peak."
These days, you don't need a license to get laid. All you need is a Netflix account -- which you've either legitimately purchased or stolen from a cousin who now probably regrets giving you the password.
Netflix and chill is only getting more popular. According to a recent report by OkCupid, the usage of the phrase "Netflix and chill" on the dating site rose an unheard-of 5,357 percent in the past year. Like, what? How?
To assist in the success of your next Netflix and chill adventure, I spoke with nine porn stars to recommend the best flicks for getting it on, because there's nobody better to speak with about potential sex through film than with people who have sex professionally on film.
"I'd recommend something sci-fi, like 'Hellboy.' Those fighting scenes will surely amp her/him up for a climax!"
"Throw on some 'Chocolat,' 'The Notebook,' 'Friends with Benefits,' 'Love and Other Drugs.' Then Netflix and chill."
"'Wolf of Wall Street' will get tongues licking in all the right places!"
"It's a tough one, but I'd say 'The Great Gatsby.' That'll amp her/his sensuous party vibe!"
"My first choice would be 'Kingpin', even though 'The Shawshank Redemption' is my favorite. Unfortunately, it doesn't set the sexiest mood."
"Something funny! Get her moving towards self-lubrication via laughter by throwing on the comedy of Aziz Ansari!"
"I've got to recommend the romantic comedy 'Silver Linings Playbook.' That movie will get things going in the right direction."
"I think the Tom Cruise classic 'Eyes Wide Shut' is a great Netflix and chill option. Falling into a circle of wealthy illuminati-style swingers, witnessing a crime, AND an adrenaline ride all in the same movie? Sign me up! For an added kinky benefit, try Wicked Sensual Ultra Chill lubricant and make it a total Netflix and chill experience."
"'The Girl with the Dragon Tattoo.' It's dark, it's f*cked up, there's a really hot sex scene. You have to watch the Swedish version (not the American version directed by David Fincher). It's also just a really good thriller."