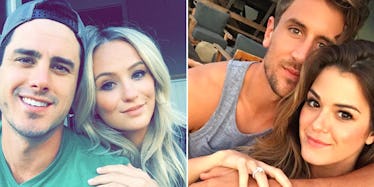 Ben And Lauren Reflect On Double Date With JoJo And Jordan: It Was 'Weird'
Instagram
BEN. AND. LAUREN. ARE. THE. CUTEST. COUPLE. IN. THE. WORLD.
If you're a big fan of "The Bachelor," there's probably a good chance you're obsessed with Ben Higgins and Lauren Bushnell's relationship.
They're totally adorable and perfect for each other. WOW, I feel so alone.
The second episode of the couple's reality TV show, "Ben & Lauren," aired last night on Freeform, and it was even better than the first.
Why is that, you may ask? Well, it's cause BEN AND LAUREN WENT ON THEIR DOUBLE DATE WITH JOJO AND JORDAN, LOL.
Since the first trailer dropped, fans have eagerly awaited the moment Lauren would reunite with Ben's ex, JoJo Fletcher.
If you recall, Ben was in love with both women on his season and had to decide between the two. Makes things kind of awkward, huh?
I hope producers picked a yummy restaurant to at least make part of the dinner appetizing.
ONLY KIDDING. On the double date, things were actually civil between both couples.
Ben and Lauren reflected on the experience afterward with E! News and said the whole situation was a little "weird."
Lauren explained,
Just putting myself back in that situation was a little weird, as I think most women would think it's weird to sit down for lunch with an ex, but it ended up going really well... I'm excited for people to see and watch... because we are friends, and we both have a lot in common... I think it was good that we all sat down.
She added,
Coming off of 'The Bachelor,' most of my struggles were with Ben. They really didn't have anything to do with JoJo. We really just needed to rebuild a relationship, and it's very hard coming off 'The Bachelor' watching your now fiancé date other women.
Hmm, makes sense.
In the first episode, Lauren actually threw some shade at JoJo Fletcher. The couple was asked to give the new "Bachelorette" advice on her life post-show so they had to watch JoJo's entire season.
Lauren made note of how much JoJo brought up Ben and said,
For someone who supposedly moved on, JoJo talks a lot about Ben.
OHHHHHHH, SNAP.
Lauren also admitted to being hesitant about sitting down with JoJo. She explained,
I don't want to resent JoJo. I don't want to resent Ben. And I think that's my biggest fear — I don't know if meeting up and having lunch will bring back those memories from months ago. A million things could go wrong, and I'm worried about every single one of them.
Thank goodness things went well! That could have taken a nasty turn.
In their interview with E! News, Ben also commented on his experience reuniting with JoJo and shared  "it wasn't awkward."
WOW, exes can be friends? Who knew!
Ben also touched upon the real reason he wanted a TV show with Lauren. He shared,
I want people to see, first off, that we really care about each other, that our relationship is very real, that it has the same struggles and same joys that a lot of relationships share. I think it's kind of fun to watch because it's two people that grew up in a very normal life being thrown into a very abnormal situation.
Hey, I'm into it. Hopefully next week's episode is filled with just as much action and drama. JoJo and Jordan, will you guys have a TV show next?!
Citations: Ben And Lauren Talk About Double Date (E! News)