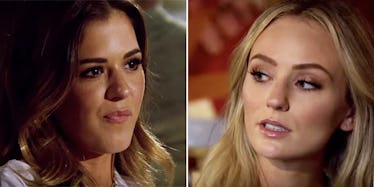 Lauren Bushnell Throws Shade At JoJo Fletcher: 'She Talks A Lot About Ben'
ABC
Fans of "The Bachelor" tuned in last night to watch the premiere of Freeform's new reality show, "Ben & Lauren: Happy Ever After."
The series stars Lauren Bushnell and Ben Higgins, the 'Bachelor' couple who left the mansion hand-in-hand after a proposal at the end of Ben's season.
Now, the lovebirds are giving fans a sneak peek into their engagement post-show as they plan their wedding and return to real life.
Of course, what's good reality TV without a little drama?
At one point during the premiere episode, a 'Bachelor' producer called Ben and Lauren to ask if they would meet up with JoJo Fletcher and her fiancé Jordan Rodgers to give them advice on starting their off-camera lives together.
If you recall, JoJo is one of Ben Higgins' ex-girlfriends who dated him during his season. She was runner-up to Lauren, and Ben even admitted to being in love with both of them.
Yup, good times!
As you can imagine, Lauren was hesitant about reuniting with the girl who--at one point--had her man's heart. She explained to Ben,
I have had a friendship with JoJo outside of you and I, since before you and I were engaged, and that friendship remains intact. The place where I get uncomfortable is when it's you, me and JoJo because it just takes me back to that day. That was really hurtful for me, and it's not JoJo's fault and it's not your fault — I just don't know what kind of advice I would offer her.
That's understandable, I get it. Ben did think they should talk to JoJo face-to-face so the world could see how in love he is with Lauren.
The two eventually decided to meet with her, but there was one catch.
In order to give the reality star PROPER advice, Ben and Lauren had to BINGE-WATCH JOJO'S ENTIRE SEASON.
Ohhhhh nooo. If you watched "The Bachelorette," you know JoJo Fletcher brought up Ben a ridiculous amount. Like, she said his name at least eight times an episode.
Well, Lauren noticed and the girl was not pleased. She said,
For someone who supposedly moved on, JoJo talks a lot about Ben.
SHOTS FIRED.
I mean, Ben and Lauren did admit to having several "arguments" about his interest in both women, so it makes sense why the whole thing was so uncomfortable.
The awkwardness doesn't end there though, folks.
JoJo heard the couple was meeting up with her in Los Angeles, SO SHE CALLED THEM TO GET LUNCH, TOO.
Ben agreed to get lunch with his ex, but he didn't even ask Lauren about it. His fiancé explained,
I feel like you said yes for the both of us.
Yikes.
Lauren openly reflected on the whole experience:
Being in the same room with JoJo and Ben all together was extremely uncomfortable and now we have to go to lunch together and I'm completely dreading it. I don't want to resent JoJo. I don't want to resent Ben. And I think that's my biggest fear — I don't know if meeting up and having lunch will bring back those memories from months ago. A million things could go wrong, and I'm worried about every single one of them.
According to Lauren now, there's no "weirdness" between the two, but it was definitely difficult for her to move forward.
Well, I'd definitely call that a successful premiere. Ben and Lauren, we're looking forward to next week's episode!
Citations: Lauren Bushnell Talks About JoJo Fletcher (People)