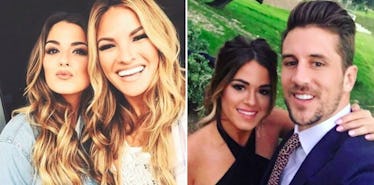 Becca Tilley Reveals Truth About 'Bachelorette' JoJo's Relationship With Jordan
Instagram
JoJo Fletcher may have fallen in love with Jordan Rodgers on season 12 of  "The Bachelorette," but it looks like her friendship with Becca Tilley was her biggest takeaway from the season.
After dating the same man on national television *COUGH, BEN HIGGINS, COUGH* and traveling the world together, JoJo and Becca have formed an unbreakable bond.
The two are constantly together to the point where fans probably wonder, "Uhh, does JoJo EVER have alone time with Jordan anymore?"
Seriously, I know you're thinking it.
Well, Elite Daily had the chance to speak with Becca at the iHeartRadio Music Awards on Sunday, March 5.
The 26-year-old fashion guru gave us her opinion on this season of "The Bachelor" and Nick Viall, her current love life and JoJo's relationship with Jordan.
We first asked Becca what it's like to watch this current season as someone who isn't competing on the show anymore. She explained,
I think it's been very entertaining, which was not surprising at all... I don't know, I'm kind of getting to the end of it, you're kind of getting more into the girls, I think it took a while because there was so much of Corinne and this silly stuff, but now you're getting to see the seriousness of the relationship. It's fun to watch and not be stressed about watching myself on it, so I'm really enjoying it.
When asked about her love life post-"Bachelor," Becca said her dating life off-camera is way more "normal," and she's currently in a loving relationship with a man named Robert. She shared,
I have a boyfriend, it's a lot more normal, I guess… Robert is very romantic, so we do a lot of things that are more romantic than I did on 'The Bachelor.'
She gushed over her BF and even shared her most romantic date with him.
On Valentine's Day, we went wine tasting and then we went on a hot air balloon ride... he just thinks of stuff and I'm not romantic at all. I want to be, but I just don't think of it... but he's doing a really great job.
AWWW, BECCA. How sweet. If you stalk this girl's Instagram for five seconds you'll immediately see how happy she is.
The reality star also commented on her friendship with JoJo since meeting her on Ben's season. She told us,
JoJo is one of my best friends... she's like a sister to me, so when we see each other it's very easy to tell her if she's annoying me or if I'm annoying her... we do everything together.
BFF GOALS, Y'ALL. JoJo and Becca are two peas in a pod.
So, what does Becca think about her best bud's man? When asked about her thoughts on JoJo and Jordan's relationship, Becca said,
They're really great together, [Jordan] really, really loves her, and I know she has the best time with him, so I'm happy for her.
Ugh, they are so in love, it hurts.
Well, there you have it, folks. True love can exist from "The Bachelor" and "Bachelorette." I guess we'll have to wait 'til next week to see if Nick Viall's story ends the same way...
Lmao. Good luck, bro.